Morgan Stanley Sees 'Rolling Bear' Reaching High-Quality Stocks
(Bloomberg) -- The Federal Reserve's monetary tightening, and a less-synchronized global economic expansion, is dealing a series of blows to financial markets in a pattern that ultimately will encompass higher-quality U.S. stocks, according to Morgan Stanley.
Riskier assets have been hit first, before investors move on to securities perceived as safer, chief U.S. equity strategist Mike Wilson said in an interview on Bloomberg Television. While emerging-market equities have been hammered this month, the U.S. S&P 500 Index is still up for June.
"That's basically our call for the year -- that we are in a kind of rolling-bear market," Wilson said on the "Bloomberg Markets" show. "We are not seeing an '08 scenario where everything gets hit at once; it's selectively hitting markets one by one and it's a rolling sort of correction."
The recent sell-off in U.S. technology stocks is an example of that, Wilson said. The U.S. tech sector has been the only one in the U.S. to see valuations climb this year as money flowed into better-quality stocks, he said. Now, "maybe even some of these highest-quality stocks have gotten too expansive and maybe need to be hit a little bit," he said.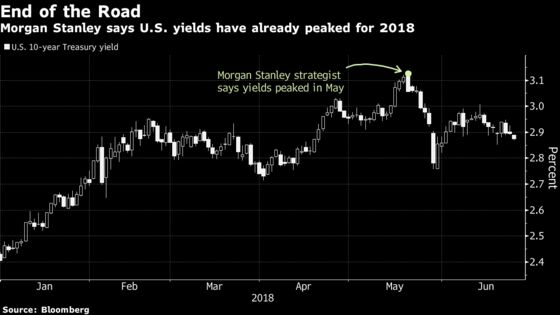 The failure of 10-year U.S. Treasury yields to hold above 3 percent over the past several weeks is a key sign of investors' shift in sentiment, according to Wilson. Morgan Stanley last week concluded the peak for the year is now already behind for the benchmark, amid brewing trade tensions and a stronger dollar.
"The fact that it can't get above 3 percent, that's concerning," he said. "It's signaling two things: number one, that growth is peaking -- doesn't mean recession; and number two, that the Fed may be further along than people think, that they have tightened a lot already -- because don't forget their balance sheet is reducing at the same time as they are raising interest rates. And that's draining liquidity."
One section of the market that may be protected against the rolling bear is U.S. small caps, he said. Relative earnings growth for those companies is going to be superior this year because of tax cuts, he said. And being more domestically focused, they are seen less vulnerable to hits from Trump administration trade policies.
Wilson anticipates a more aggressive rotation into defensive stocks such as utilities, telecom services, health care and consumer staples as growth slows and the U.S. Treasury yield curve heads toward inversion.