Kazakh Oil Output Dips as List of Disrupted Producers Lengthens
(Bloomberg) -- Add Kazakhstan to the list of oil producers whose supply is restricted.
The central Asian nation's output slipped by about 240,000 barrels a day between Sunday and Tuesday, data from the country's Ministry of Energy show. The cause and duration of the dip aren't known, but the country suffered a few supply outages earlier this year involving the giant Kashagan field in the Caspian Sea.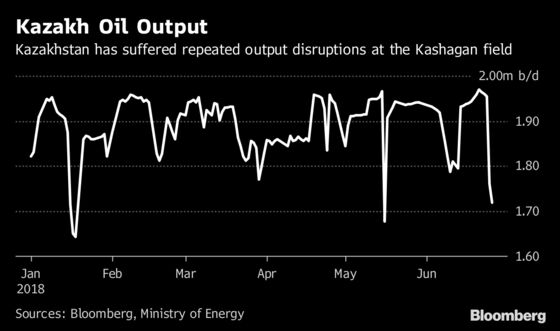 The reduced output comes at a time when several countries are pumping less. Venezuela's economic crisis has brought with it a plunge in oil production, while fighting in Libya has cut flows through two key ports. Angola and Canada are also down, while the U.S. is pressuring buyers of Iranian crude to cut purchases from the Persian Gulf country to zero with tanker tracking showing that the measures may already be working.
"Disruption in Kazakhstan adds to a growing list of outages," said Jan Edelmann, an analyst at HSH Nordbank AG. "We expect to see further outages from here as not just Iranian and Venezuelan output fall. There are rising risks for Angola, Libya and Nigeria as well, so risks to prices are to the upside."
A call to Kazakhstan's Energy Ministry wasn't answered, and there was no immediate response to an email.
Oil futures rallied by about 60 cents a barrel, suggesting the growing list of disruptions may be making traders increasingly skittish. Libya last week lost about 450,000 barrels a day amid fighting.
Around 350,000 barrels a day of Canadian supply has been halted after an electricity transformer at Syncrude Canada's oil-sands upgrader in Fort McMurray blew up last week. The plant is expected to remain out of operation until the end of July.
Venezuela's oil production has been dropping sharply since September and the decline shows no sign of easing. Output in May was 1.44 million barrels a day, according to Bloomberg data. It was at about 2.4 million half a decade ago. Angolan production has slumped since mid 2015.
While the cause of the Kazakhstan decline wasn't immediately known, its Kashagan field was reduced by around 120,000 barrels a day for several days in January as a result of electrical problems. It was also disrupted in March and April, and again in May. The country has been among the least compliant in a global pact among producers to restrict oil supply since the start of 2017.
"All these supply outages should support the market despite the Saudi production increase. Would you sell this market? You wouldn't," PVM Oil Associates Ltd. analyst Tamas Varga said.