Junk-Bond Buyers Are Getting Pushier 
(Bloomberg) -- Europe's junk-debt investors are gaining ground after years of borrowers chipping away at the safeguards enshrined in the small print of bond documents.
As the balance of power shifts, around 32 percent of Europe's high-yield bond issuers have altered terms to meet investors' demands this year, almost double the rate in the last six months of 2017, according to preliminary findings from research firm Covenant Review.
"Investors are getting a little leery," said Glenn Zahn, a credit analyst at Commerzbank AG in London. "They're taking a deeper look at deals to see if the covenants are weak because they're concerned these companies could become stressed."
Asset managers' enhanced clout comes as European high-yield bonds head for their first year of losses in seven and with at least nine borrowers shelving deals since March. The average yield on European junk bonds is currently at its highest in more than a year at around 4 percent, according to Bloomberg Barclays index data.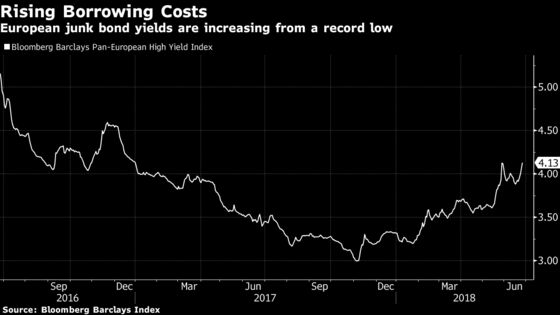 Spanish casino operator Cirsa's 1.6 billion euros ($1.8 billion) sale of debt and Danish telecoms group TDC A/S's 1.4 billion-euro offering last week both made it past the post after conceding to investor objections on documentation. U.S. battery maker Energizer Holdings Inc.'s 650 million euro tranche got a smooth passage without being sent back to the drawing board, but came to market with what one of its underwriters called "lender friendly documentation." All three firms declined to comment on the deals.
"Investors are saying enough is enough," said Martin Reeves, head of global high yield at Legal & General Investment Management, which manages about 980 billion pounds ($1.3 trillion). "Borrowers have to be careful because if investors say no, they might not be able to get a deal done."
Much of that shifting dynamic can be attributed to the European Central Bank's plans to wrap up the corporate bond buying it introduced in 2016 to revive a moribund economy. Its so-called Corporate Sector Purchase Programme left bond investors with not enough securities to go round, forcing them to buy riskier high-yield debt and shifting power in favor of borrowers.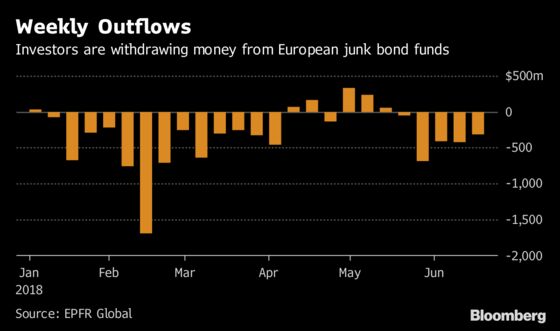 Holders of debt issued by U.K. retailer Shop Direct discovered what's at stake if they don't get robust protections baked into a bond's structure. The company used flexible terms to boost dividends to its owners, billionaire brothers David and Frederick Barclay, while maxing out a secured-lending facility. The move, disclosed last month, took investors by surprise and sent the bonds down a record 15 pence on the pound to 70 pence, data compiled by Bloomberg show.
By fighting back against egregious terms, European fund managers are starting to close the gap with U.S. counterparts who started their own rebellion about two years ago. The tipping point across the pond came in 2016 when preppy fashion chain J. Crew Group Inc. sought to restructure debt in a way that shunted its brand name out of reach of secured creditors. U.S. loan and bond investors have pushed to eliminate similar clauses from deal terms ever since.
In January 2017, New-York headquartered Covenant Review published a report titled "The End of Covenants" that was pivotal in prompting investors in the U.S. to start collaborating against egregious bond terms.
Other recent European deals where investors won concessions include last month's 2.2 billion euro offering from Italian payment provider Nexi, which removed terms that made it easier to channel proceeds from asset sales to shareholders. An external spokesman for Nexi declined to comment.
U.K. watchmaker Aurum axed a clause facilitating additional dividends to its private equity owner Apollo Global Management LLC when it sold debut bonds in April. That followed building material distributor Stark Group, owned by Lone Star Funds, which had to remove the same loophole in March. An external spokesman for Apollo and a spokeswoman for Lone Star both declined to comment on the transactions.
A similar backlash is unfolding in Europe's leveraged-loan market where at least 20 deals have changed terms in buyers' favor this year, according to data compiled by Bloomberg.
"It's healthy to have a market that pushes back and forth on terms, otherwise it's a one-way street," said Simon Francis, co-head of leveraged finance EMEA at Citigroup Inc. "Last year covenants were pushed quite far. This year investors have pushed back and I think issuers are responding well to that."