Hermes Bags, Diamonds Worth $273 Million Taken in 1MDB Raids
(Bloomberg) -- Malaysia's police seized about 1.1 billion ringgit ($273 million) of items that included Hermes International handbags, Rolex watches and cash in raids linked to former Prime Minister Najib Razak amid investigations into troubled state fund 1MDB.
Luxury goods such as a 6.4 million ringgit diamond necklace, 51.3 million ringgit worth of Hermes bags and more than 200 sunglasses valued at 374,000 ringgit were taken from five residences and an office linked to Najib, Amar Singh, commercial crime investigation department director at the police, told reporters on Wednesday.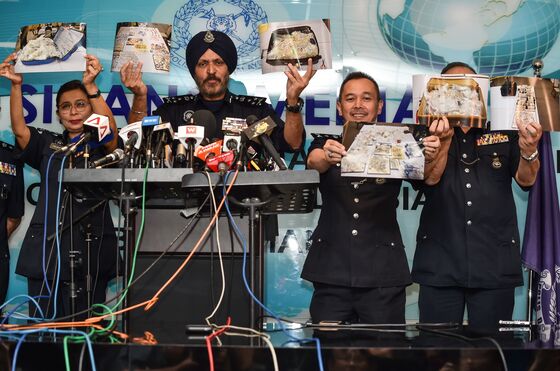 "I think this is the biggest seizure in Malaysian history," he said, referring to the more than 12,000 items that were taken in the raids. "So now you can understand why we couldn't do the counting at the premises itself? Because the numbers were just too huge."
Breakdown of the items seized by police:
Cash in 26 currencies worth 116.7 million ringgit
12,000 pieces of jewelry worth 442 million ringgit based on value of their raw materials (police estimate market value of at least 660 million ringgit)
567 handbags, with the value of the Hermes-branded ones at 51.3 million ringgit
423 watches valued at 78 million ringgit
234 sunglasses worth 374,000 ringgit
The objects were found alongside cash in various currencies when the police searched the properties last month. A spokesman for Najib, who has consistently denied wrongdoing, couldn't immediately comment after the police briefing.
The police had to form eight teams consisting of more than 150 officers to analyze the items for weeks, even working through the Eid al-Fitr Muslim holiday, Singh said. Valuations may increase as not all items seized have been analyzed.
Prime Minister Mahathir Mohamad is seeking to recoup $4.5 billion of funds potentially lost through troubled state company 1MDB, which has spawned global probes from the U.S. to Switzerland. Attorney-General Tommy Thomas is studying investigation papers for possible criminal or civil proceedings, with Mahathir previously saying that Najib would be charged with bribery and embezzlement of public funds.
The police will be calling in Najib and his wife Rosmah Mansor to give statements "soon," Singh said, adding that they have recorded statements from about 30 people as part of the 1MDB probe. Najib, who has been questioned by the Malaysian Anti-Corruption Commission, called the revived investigation a "politically motivated" move.
Najib has taken to social media to defend his record, posting statements on Facebook to criticize the government's policies while sharing regular pictures of him with his supporters. Photographs circulating on social media showed Najib, his wife and children attending an event to celebrate Eid al-Fitr, with the former premier belting out Cliff Richards' "The Young Ones" and "Sha-La-La-La-La" by Danish rock band the Walkers.
In a few of these posts, Najib maintained that funds weren't misappropriated from 1MDB.
1MDB's auditor KPMG has told the state fund not to rely on its reports over three years as they don't show "true and fair" assessment for finances. KPMG retracted the audit reports for financial years ended March 2010, 2011 and 2012, as it didn't have access to relevant documents that Malaysia's new government has since declassified, 1MDB said in a statement Tuesday.