Ghana's Economic Growth Slows as Oil, Farming Output Ease
(Bloomberg) -- Ghana's economic growth slowed in the first quarter as expansion of oil and farming output eased.
Gross domestic product expanded 6.8 percent in the three months through March from a year earlier, compared with 8.1 percent in the previous quarter, acting Government Statistician Baah Wadieh told reporters Wednesday in the capital, Accra.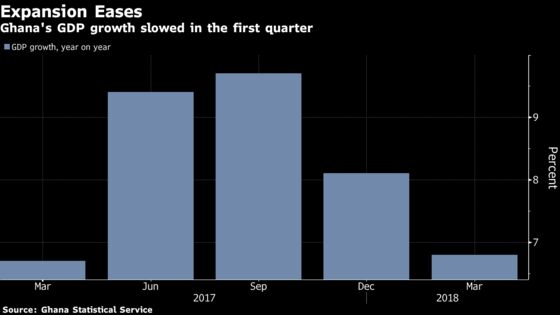 Agriculture output grew by 2.8 percent, compared with 8.5 percent the previous quarter, while oil and gas production expanded by 24.8 percent, down from 57.9 percent, he said. Services, which account for almost two thirds of GDP, grew 5.2 percent compared with 3.4 percent.
The West African economy expanded at the fastest rate in five years in 2017 as oil and gas production surged. Ghana's growth booms and busts have been closely linked to crude since it became a producer in 2010, when Tullow Plc started the Jubilee field.
The statistics office will publish overhauled economic data by end-September, Wadieh said. The agency was due to release the figures on Wednesday.