China H Shares, Once World's Hottest, Tumble Into Bear Market
(Bloomberg) -- The Hang Seng China Enterprises Index shows how far the needle on China has moved from greed to fear.
Back in January, the gauge of Hong Kong-listed Chinese stocks was rising at the fastest pace among major indexes, with a blistering 16 percent surge that included a record 19-day winning streak. Sellers were hard to find as investors feared missing out in a rally that few saw ending anytime soon.
Now the 50-member gauge of some of China's largest companies has entered a bear market, having tumbled more than 20 percent from its peak that month. Concerns about the nation's economy are again in the forefront of investors' minds, while a weakening currency is reviving fears of a competitive devaluation amid risk of a trade war. The slump in domestically traded shares is also becoming too great to ignore, with the Shanghai benchmark sinking to a two-year low.
The Hang Seng China index was down 2.2 percent at the close, the lowest since September. In a mirror image of January's hype, superlatives are easy to find. The measure has fallen for nine of the past 10 days, while its relative strength is the lowest since a rout at the start of 2016.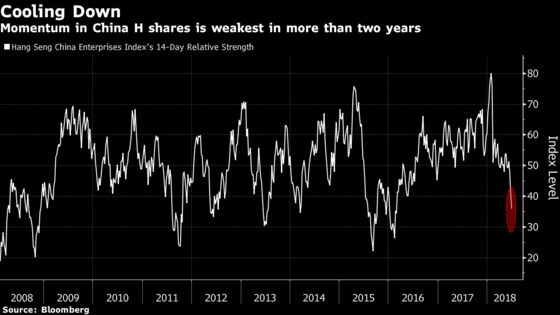 Industrial & Commercial Bank of China Ltd., one of the nation's biggest companies, has fallen for a record 13 days. Air China Ltd. has lost 26 percent in a 10-day retreat as the depreciating yuan boosted the repayment cost of airlines' dollar-denominated debts. Tencent Holdings Ltd., last year's superstar, has unbuckled from a global tech rally with a $120 billion slump. Ping An Insurance Co. which more than doubled in 2017, has tumbled 12 percent this year.
The Hang Seng Index, which includes non-Chinese companies, has fared a little better. The gauge has lost 14 percent from its January high, helped by gains in Hong Kong firms such as Hang Seng Bank Ltd. and Wharf Real Estate Investment Co.