Brexit Bulletin: Pandora's Box
(Bloomberg) -- Today in Brexit: It's not just Theresa May who faces crunch time soon. The EU also has some decisions to make.
Shortly before midnight in Luxembourg last night, when the European Union rubber stamped the draft statement for Friday's summit, it formally acknowledged what we've known for weeks – that June will go the same way as many other staging posts along the Brexit journey, and be not a marker of progress, but of a lack of it.
The crunch is coming, however. The difficult questions must be resolved soon. Of course, most of the answers need to come from London. Prime Minister Theresa May sits down with her cabinet in her Chequers country retreat next week to finalize the U.K.'s position on its future relationship with the EU. She'll have to find a solution to the problem that's been gnawing away at the government for well over a year: How closely bound to the EU's rules and regulations should a post-Brexit U.K. be?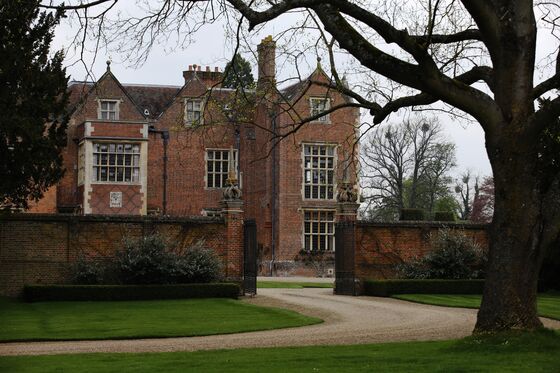 But the EU is having its own difficult conversations. How closely should it stick to its principle that the single market comes as a whole and obliges members to allow free movement of EU citizens? As Brexit's critical moment looms, it's the question at the heart of it all. Would the EU allow Britain to remain part of the single market, for goods only, and also restrict the flow of European workers into the country?
The European Commission, including chief EU negotiator Michel Barnier, and the most powerful countries, led by Germany, say no. Once you allow the U.K. to "cherry pick," they say, who knows where it might end? As Josep Borrell, the new Spanish foreign minister, told Bloomberg yesterday, "Brexit is not a political problem but it is a pain in the ass."
"Germany will say no, France will say no, Spain will say no," Borrell said. As a diplomat from one of the large EU nations put it, it would open a "Pandora's Box." 
But other countries are more sanguine and, in internal EU-27 discussions in Brussels, have questioned whether the bloc should be more pragmatic, officials say. Yes, Germany and the other powerful countries nearly always win these arguments, but splits are emerging. The Pandora's Box is slightly ajar.
Bloomberg's Alan Crawford ponders the prospect of an EU without Angela Merkel, and says the nativism that has swept much of the continent imperils the German leader and the whole EU project.
The Financial Times reports from southwest England, where the cost of Brexit is being felt in a former Spitfire plant.
Diplomatic Language | U.K. Foreign Secretary Boris Johnson didn't deny that he said "f*** business" to a European official last week, but he did offer further explanation. "I don't think that anyone could doubt the passionate support of this government for business," Johnson told lawmakers in the House of Commons on Tuesday. "It may be that I have from time to time expressed skepticism about some of the views of those who profess to speak up for business."
What Upside? | Theresa May's government risks slowly suffocating investments for car manufacturers who are desperate for clarity post-Brexit, according to Mike Hawes, chief executive officer of the Society of Motor Manufacturers and Traders. He also took a jab at May's widely-debunked promise of more money to spend after the U.K. leaves the bloc. "There is no Brexit dividend for our industry," Hawes told the trade lobby.
Don't Forget Us | The European Services Forum, a lobbying group for services companies, told Brexit negotiators that goods-related issues have "dominated the debate" even though services make up the majority of EU GDP. In an open letter addressed to Brexit Secretary David Davis and his EU counterpart Michel Barnier, the group said Brexit risks creating "major disruption" in service-sector relationships and that the proposed 21-month transition is "unlikely to be sufficient to cover all the stages" necessary in signing and ratifying new agreements.
Blast From the Past | The U.K. should start planning to delay Brexit and extend negotiations with the EU or face the disaster of leaving without a deal, former Prime Minister Tony Blair will tell the Chatham House think tank in London on Wednesday. In an impassioned appeal for a change of course, Blair will warn that crashing out of the EU with no agreement will be "devastating" for the U.K., as he declares himself more worried than ever about the country's future.
Trade Future | European ministers approved a negotiating mandate that permits the European Commission to "unilaterally" split Europe and Britain's joint trade quotas even if the move is rejected by other World Trade Organization members, Bloomberg Law reports. The EU's take-it-or-leave-it offer comes as major agricultural exporters – such as Australia, Brazil, Canada, New Zealand, and the U.S. – say they oppose a simple formulaic split of the EU and U.K.'s tariff-rate quota commitments, which set import limits on sensitive goods like beef, lamb, and sugar. 
Some Concern | Hedge funds that used private polling data to profit from the 2016 Brexit referendum leave an "uncomfortable feeling," said Nicky Morgan, chairman of Parliament's influential Treasury Select Committee. Other politicians, including Labour peers Peter Mandelson and George Foulkes, have called for a probe into practices revealed by a Bloomberg story on Monday. However, Morgan said her committee has no immediate plans to hold an inquiry.