Momentum Stocks Set for More Pain From Quants as Quarter Ends
(Bloomberg) -- The calendar and the computers are working against formerly high-flying momentum stocks.
The iShares Edge MSCI USA Momentum Factor exchange-traded fund, or MTUM, has given back 3.9 percent over the past three sessions. And Christopher Harvey, Wells Fargo's head of equity strategy, sees more downside risk for the fund and stocks linked to the momentum factor - the idea that stocks that have been rising are likely to keep rising.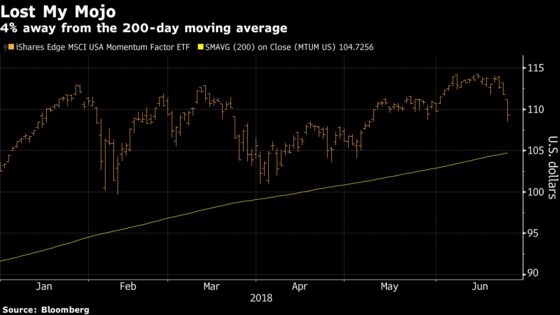 In light of the losses, quantitative risk models will be telling portfolio managers that it's time to cut their exposure to the momentum factor, so those stocks will face systematic selling, he said.
What's more, most of those names -- including the momentum ETF itself -- are still faring better than the S&P 500 Index on the year and the quarter. That leaves fund managers in "a race against time" with only four trading days left until the end of the quarter, Harvey adds. That serves as "a significant short-term incentive to, at the margin, limit the bleed and hold onto existing relative performance" by way of taking profits in what once were the big winners.
Technology stocks account for 40 percent of MTUM by market capitalization. Throw in Netflix and Amazon, which are listed as consumer discretionary, and that share rises to nearly 50 percent.
Calling for this type of market shift is something relatively new for Harvey.
"At the end of the year, we suggested there would be no great rotation from growth to value," he wrote in a note Tuesday. "During the Feb '18 selloff, we said there would be no tech/momentum capitulation from the big 'Long Onlys' and for the most part there wasn't."
The strategist recommends that investors with a long-term horizon or fund managers looking to remove risk from their portfolios move into safer stocks like utilities, food, beverage, tobacco, and pharmaceuticals as well as the low volatility factor.