Europe Stocks Rebound After Plunge as Investors Eye Trade Talks
(Bloomberg) -- European equities rebounded after falling the most in four months on Monday as investors watched the escalating trade tensions between the U.S. and China.
The Stoxx Europe 600 Index rose 0.3 percent led by banks and miners, which were among the biggest decliners yesterday. ASML Holding NV rose 1.7 percent and HSBC Holdings Plc climbed 0.6 percent.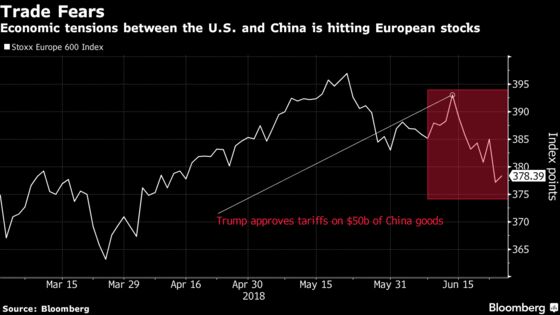 White House trade adviser Peter Navarro sought to ease investor concerns about U.S. trade policy, indicating that a Treasury Department report later this week on American restrictions on foreign investment won't be as sweeping as markets are anticipating. Harley-Davidson Inc. said in an SEC filing on Monday that tariffs enacted by the EU in response to Trump's penalties on imported steel and aluminum would add as much as $100 million a year to its costs.
"This trade spat story looks to have good legs on it," Mike van Dulken and Artjom Hatsaturjants at Accendo Markets, said by email. "Buckle up."