Abraaj Founder Naqvi Faces Criminal Case Over Bounced Check
(Bloomberg) -- Arif Naqvi, the founder of Abraaj Group that has been roiled by allegations of misused investor money, faces a criminal case in the United Arab Emirates for issuing a check without sufficient funds.
A complaint against Naqvi and another Abraaj director, Muhammed Rafique Lakhani, was filed in Sharjah over a bounced check, according to a court document seen by Bloomberg. Checks were issued as a security on a loan of about $200 million to Abraaj and $100 million to Naqvi by the U.A.E.-based Jafar family, according to Habib Al Mulla, executive chairman of Baker McKenzie Habib Al Mulla, who is representing Naqvi.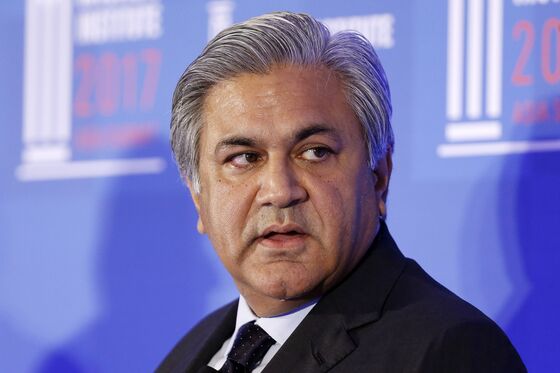 The U.A.E. treats bounced checks as a criminal offense. A hearing is scheduled for Thursday. The Financial Times previously reported the criminal case.
"The checks were provided as a security and the Jafars knew there would not be funds to satisfy these checks, but they decided to try and deposit them anyway and then filed a criminal complaint, we believe as a negotiating tactic," Al Mulla said. "We will fully defend against this action."
Last week, Colony Capital Inc. agreed to buy some of Abraaj's funds and oversee others as the Dubai-based private-equity firm undergoes a court-supervised restructuring. The company has faced a liquidity crisis since it emerged in February that some of its investors, including the Bill & Melinda Gates Foundation, commissioned an audit to investigate the alleged mismanagement of money in its healthcare fund.
A review of Abraaj's finances found that there was commingling of Abraaj's own money in the healthcare fund and its fourth private-equity fund, according to a summary of a report by Deloitte that was presented to creditors and seen by Bloomberg News. Naqvi stepped down from his position in February as chief executive officer of Abraaj Investment Management Ltd. following the allegations.
As a result of the compliant, an arrest warrant for Naqvi, who is currently outside the U.A.E., has been issued, Al Mulla said. Naqvi doesn't plan to return to the country until the matter is settled, he said.
"Abraaj can confirm that a loan was granted and security provided in a pure commercial transaction," the firm said in an emailed statement Monday. "Partial repayment of the loan has been made and settlement discussions are ongoing with the intent to arrive at a satisfactory solution for all parties. It should be noted that the cheques were provided as part of a security package and as such should not have been submitted to a criminal court."
Essam Al-Tamimi, a senior partner at Tamimi & Co., the law firm that handed over the checks to the public prosecutor, said in a statement that "there are no ongoing negotiations to resolve this matter."