'Outright Bear' Ahead for Emerging Markets, Morgan Stanley Says
(Bloomberg) -- Emerging-market economies witnessing an equity selloff have more than just the U.S.-China tension to blame, said Jonathan Garner, Morgan Stanley's chief Asia and emerging markets strategist.
There's also accelerated tightening in the U.S., a rollover in global growth outside of the U.S., including in emerging markets, as well as risks around oil-price strength, the Hong Kong-based Garner told Bloomberg Television.
"This is a dangerous market," Garner said. "We now think we're heading to an outright bear market."
The diverse troubles convinced Morgan Stanley strategists to lower their 12-month target for the MSCI emerging-markets gauge to 1,000 from 1,160. Garner noted that the team has been worried since the end of 2017 about how a softening in equities would play out in emerging markets.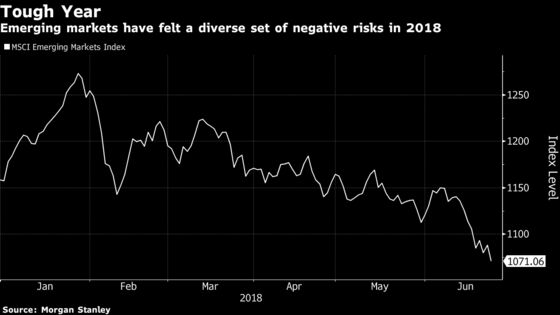 Movement in interest rates on the back of Federal Reserve tightening, as well as trade protectionism and the Chinese renminbi's weakening against the dollar since the end of April could all help cause stock indexes such as the Hang Seng to "adjust to the downside quite rapidly," Garner said.
Oil prices that have charged ahead this year have been a drag for more than 80 percent of emerging markets, even as they provide a boost to some oil-exporting economies such as Russia, Colombia and Mexico, he said.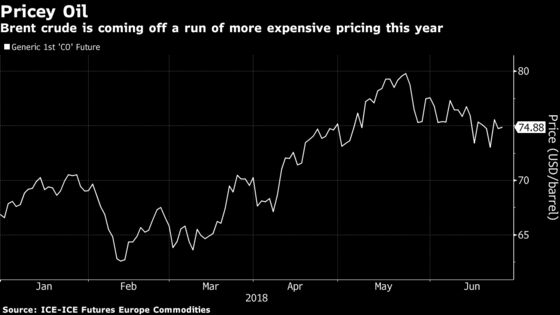 Amid heightened U.S.-China trade tensions, Garner said he's watching how auto stocks have been suffering, particularly in Europe and Japan. He sees earnings estimates for technology hardware such as semiconductors and mobile phones coming down, and a global tightening cycle is pressuring financial-sector equities as economies move faster than anticipated on interest-rate hikes.