UBS Sees a Big Emerging-Market Rebound In the Second Half
(Bloomberg) -- Emerging-market assets are poised to rally in the second half of 2018, with stocks potentially set for a 15 percent gain, according to UBS Global Wealth Management.
While a stronger dollar, rising interest rates and intensifying trade tensions have sent the benchmark equity index down 7.7 percent in 2018, the worst start to a year since the 2013 taper tantrum, those risks may ease in coming months, according to Jorge Mariscal, the emerging-markets chief investment officer at UBS, which manages about $2.4 trillion of assets.
He expects the dollar to weaken, the trajectory for interest rates to become clearer and trade threats to die down. That will spur a 10 to 15 percent rally in emerging-market equities in the next six months, Mariscal said in an interview.
For all the optimism, he's neutral on developing-nation stocks and trimmed his overweight on sovereign debt, saying that he'll wait until developments that back his thesis materialize before fully jumping into the asset class.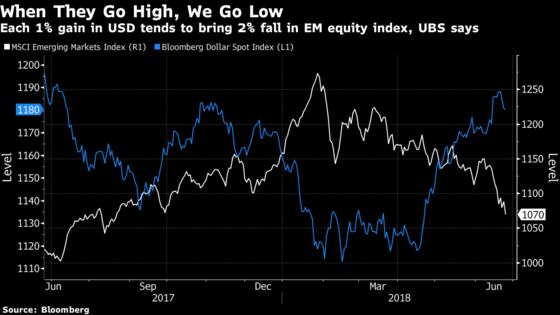 Among stocks, Chinese technology and consumer companies that trade in Hong Kong look attractive, he said. Bonds from Brazil, Mexico and Russia also appear cheap after political risks widened spreads, according to Mariscal, who made prescient calls to go overweight Brazilian stocks and Mexico's peso last year.
Here's what else he had to say on emerging markets:
On Turkey post-Erdogan win
"It's probably status quo from a domestic point of view. The lira will remain under pressure. It's a long shot for them to ask for IMF support, but I wouldn't rule it out if you see another 5 to 10 percent increase in the U.S. dollar."
"There's so little external debt that for all the radical options politically, there's no threat to the balance sheet."
"There's very low probability that you get a credit event, except in some countries like Argentina and Turkey. And yet spreads have widened significantly. We think that's unjustified."
On Mexico's presidential vote Sunday
"The assumption is on day one, Amlo [Andres Manuel Lopez Obrador] will make a speech that is quite conciliatory. The last thing a new government wants is a financial crisis on their hands."
"The market is increasingly thinking there's a relief rally, but that relief rally is happening as we speak. Some of that is now being discounted, so after the election you may get a bit of a selloff. Our base case is the peso will trade around 19.50 to 20.00 between now and year-end."
On potential Brazil rally amid election
"It looks like Marina Silva and Jair Bolsonaro in the runoff. Bolsonaro is probably more pro-markets but he's a Trump type -- unpredictable and a hard hand. Right now, the election seems quite open, but I think Bolsonaro wins. In that case, markets would probably rally as his adviser is pro-pension reform and deregulation. From that point of view, Brazilian equities are potentially cheaper than Mexico. You could see the real potentially below 3.0 if he won."
On winners from Saudi Arabia and Argentina's MSCI inclusion
"The pool in frontier markets will not significantly diminish, just like I don't think the pool for emerging markets will increase dramatically because Saudi and Argentina come."
"The big winners are the African countries -- Nigeria and Kenya. The more liquid countries are the winners here."