U.S. Stock-Index Futures Slide as Global Trade Concerns Linger
(Bloomberg) -- U.S. stock futures fell during European and Asian hours as trade tensions continued to cast a pall over markets.
Futures contracts on the S&P 500 Index were down 0.6 percent as of 10:10 a.m. in London after falling as much as 0.7 percent in early trading. Contracts on the Dow Jones Industrial Average and Nasdaq declined 0.7 percent and 0.9 percent, respectively.
Shares slid across Asia and Europe as the world's largest trading partners approach deadlines on tariffs in the next two weeks. The Treasury Department is planning to heighten scrutiny of Chinese investments in U.S. companies involved in technologies such as new-energy vehicles, robotics and aerospace, according to eight people familiar with the plans.
"The United States is insisting that all countries that have placed artificial Trade Barriers and Tariffs on goods going into their country, remove those Barriers & Tariffs or be met with more than Reciprocity by the U.S.A.," Trump said in a tweet. "Trade must be fair and no longer a one way street!"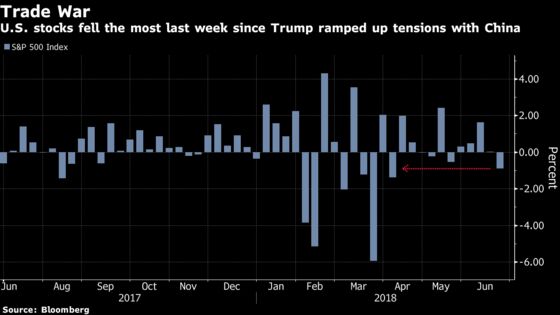 The benchmark S&P 500 Index fell almost 1 percent last week -- the first decline in more than a month -- after a series of escalating broadsides between the world's two largest economies. Trump directed his trade representative to identify $200 billion worth of Chinese imports to be subjected to additional tariffs. That was in response to Beijing imposing duties on sectors considered politically sensitive after Trump had earlier imposed levies on $50 billion worth of Chinese goods.
Last week, the European Union vowed to retaliate if Trump follows through with a threat to impose a 20 percent tariff on cars imported from the region unless the bloc removes duties and other barriers on U.S. goods.
"The only way I can see any decent rally is if we start to hear more conciliatory tones from the U.S., and that's not happening," said Nick Twidale, chief operating officer at Rakuten Securities' Australian unit. "It was a bit of a relief rally on Friday, but we're still open to further downside this week."