Investors With $5 Trillion Have Room to Cut Emerging Debt
(Bloomberg) -- There's another reason to fret over the emerging-market sell-off: the world's biggest bond funds still have ample room to curtail holdings.
For all the doom-mongering over the putative financial ill-health of developing economies, exposure to local- and hard-currency debt has fallen only modestly over the past two months to still-average levels.
Global debt funds overseeing $4.8 trillion have about 11 percent allocated to the asset class, according to the Institute of International Finance. That's near the 10-year norm and higher than the 9.7 percent notched in the depths the 2016 global deflation scare.
The upshot? Money managers have scope to beat a retreat en masse if pressures on emerging markets intensify.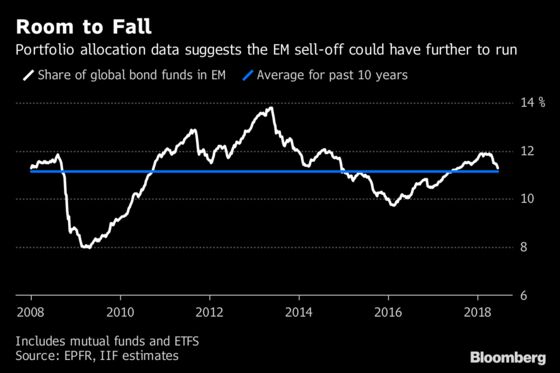 "I think this is a note of caution for investors," said Koon Chow, a strategist at Union Bancaire Privee Ubp SA in London. "It reminds us that over the last two and a half years, global investors had re-weighted back into EM. That means that during periods such as now -- with global and idiosyncratic things weighing on prices -- there is no cavalry, as such, to come in and buy EM at the lows."
Spreads on emerging-market bonds are trading near the highest level since 2016 as a stronger dollar, trade tensions and tighter liquidity conditions bite, while higher short-term U.S. rates spur competition for capital. Investors pulled $1.7 billion from funds dedicated to emerging-market debt in the week to June 20, a ninth-straight week of redemptions, according to EPFR Global data.
London-based research house Capital Economics Ltd. calculates that despite the spike in yields, the retreat of capital from emerging markets has so far been relatively limited. Analysts estimate that net purchases of bonds and stocks amounted to $40 billion in April overall, as inflows into Asia offset withdrawals in Latin America and eastern Europe.
"For all the talk of investors dumping EM bonds during the recent financial market turmoil, it hasn't been as severe as some of the headlines may suggest," said William Jackson, an analyst at Capital Economics.
Strategists at Bank of America Merrill Lynch reached similar conclusions in a recent research note, in which they argued that the still-heavy positioning in emerging markets is a reason to be tactically cautious.
"Flows from long-term mandates have barely budged so far and real-money clients report even inflows from this angle," strategists led by David Hauner wrote. "The real issue is with crossover money where trapped positions remain to be unwound."
The spread between emerging-market dollar debt and U.S. Treasuries breached 400 basis points for the first time in two years last week, according to JPMorgan Indexes. It stood at 394 basis points on Friday.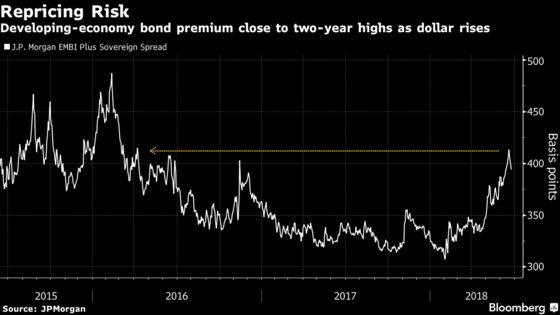 Bulls can take comfort in the fact that global bond holdings are almost three percentage points below the 2013 peak, according to the IIF, a Washington-based association for the world's biggest banks. Meanwhile, the sell-off pressure in U.S. interest-rate markets is easing, and EM valuations have re-priced to more attractive levels for marginal buyers.
Goldman Sachs Group Inc. told clients last week to snap up local debt, citing above-trend global growth and healthy current-account balances. Strategists at UBS Group AG said EM credit looks attractive compared with U.S. high yield because balance-sheet risk is healthier, while currencies and stocks are likely to bear the brunt of a prolonged contraction.
In the longer term, the fact that global funds only have 11 percent invested in debt of economies that drive the lion's share of global economic growth is a reason to be bullish because it means money managers have plenty of firepower to drive credit cycles in the coming years.
But tomorrow's promise offers investors little solace today, as they try to figure out whether the emerging-market rout will ebb from here or keep picking up steam.