Tariff Threats Spark Record Emerging Market Equity Outflows
The iShares MSCI Emerging Markets exchange-traded fund (ticker EEM) suffered a record $3 billion in withdrawals for the week ended June 22. On the other hand, the iShares Russell 2000 ETF (ticker IWM) pulled in $1.9 billion on the week -- tops among U.S.-listed equity products and the most for IWM this year.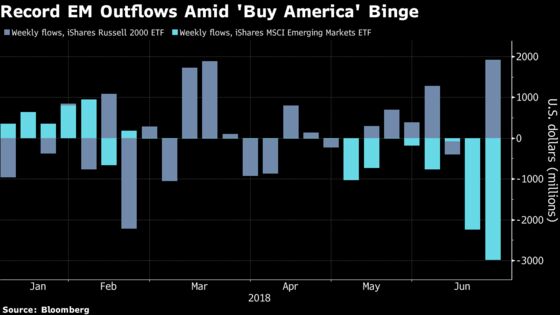 The Russell 2000 Index managed to set an all-time high early in the week -- also rising to a record relative to the MSCI World Index -- though IWM ended the week virtually flat. These small-cap stocks are presumably better insulated from potential shifts in the rules of global commerce.
The reconstitution of Russell indexes at the close on Friday could introduce an element of noise into last week's flows data. Fund managers may have been motivated to get into or out of the product for technical reasons related to the upcoming changes in the underlying benchmarks rather than enhanced enthusiasm for small-cap stocks. In 2017, this product did not see major buying activity in the week of its reconstitution.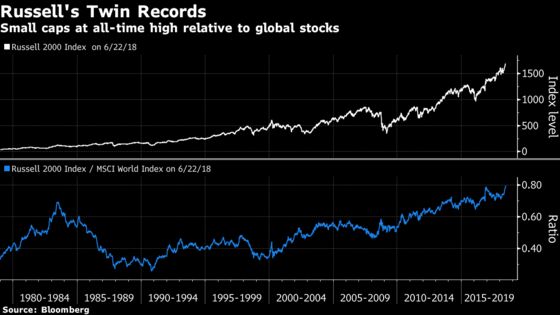 Meanwhile, EEM gave back 2.3 percent. Chinese and Hong Kong equities account for one-third of the gauge by market capitalization. The trio of Chinese tech stocks known as BAT -- Baidu, Alibaba and Tencent Holdings -- comprises over 10 percent of that index. All three trailed the broader emerging market index last week.