Trade-War Fears Spread in U.S. Equities as Tech Shares Lead Drop
(Bloomberg) -- This is a whole new breed of trade-war selloff.
A look at market internals shows that Monday's equity retreat has a decidedly different tenor than what prevailed last Tuesday. Both the severity and breadth of the damage have increased dramatically.
Technology and domestically focused stocks are two areas of the market that showed some resilience last week as rhetoric between the U.S. and China heated up. On Monday, however, the Nasdaq 100 and Russell 2000 indexes trailed not only the S&P 500 Index, but also industrials.
That last sector has been the primary casualty of the tariff spat between the world's two biggest economies because of its tight links to global activity. Two of the group's largest weights -- Boeing Co. and Caterpillar Inc. -- generate a sizable share of revenue from China. But given reports over the weekend that the U.S. Treasury Department plans to release fresh rules on Chinese investment in technology companies, the tech-heavy Nasdaq gauges are down more than 2 percent.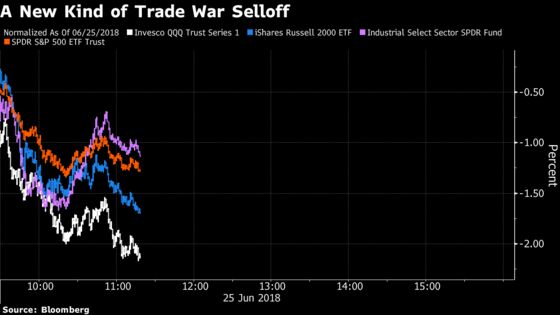 As for domestically focused shares, the session after U.S. President Donald Trump threatened additional rounds of tariffs against China last week saw industrials underperform the Russell 2000 Index by more than two percentage points. That's not the case today.
The upshot: A trade dust-up may have its winners and losers, but in a full-blown trade war, no one is safe.