It's the Bleakest Monday for Emerging-Market Traders Since 2016
(Bloomberg) -- The week could hardly have gotten off to a worse start for investors in emerging-market currencies.
MSCI's index of developing-nation currencies is down 0.5 percent, its worst performance on a Monday since August 2016.
All but four of the 24 main emerging units tracked by Bloomberg weakened against the dollar, with South Africa's rand and South Korea's won leading losses. Turkey's lira initially gained 3 percent, the most since late 2015, as investors took in President Recep Tayyip Erdogan's election victory. But it's reversed those gains as investor concerns about trade wars and tighter U.S. monetary policy come back to the fore.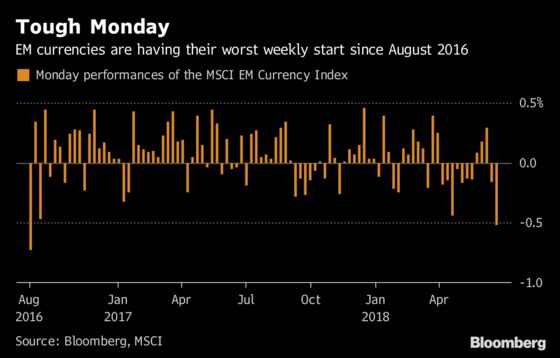 Stocks are also struggling. The MSCI EM Index is down 1.6 percent, the most on a Monday since Feb. 5.