Investors Traded $596 Million of Treasuries ETF in Trade War Bet
(Bloomberg) -- As a global trade war looks increasingly likely amid rising tensions between the U.S. and China and Europe, investors late last week placed their bets on an exchange-traded fund tracking Treasuries.
The iShares U.S. Treasury Bond ETF, or GOVT, had record volume of 24 million shares, worth $596 million, on Friday, almost 10 times it daily average for the past years. The $6 billion fund took in $275 million on the day, the most since January 2017. The largest trade was a block of 10 million shares worth $251 million that came in after the market closed, according to Bloomberg data.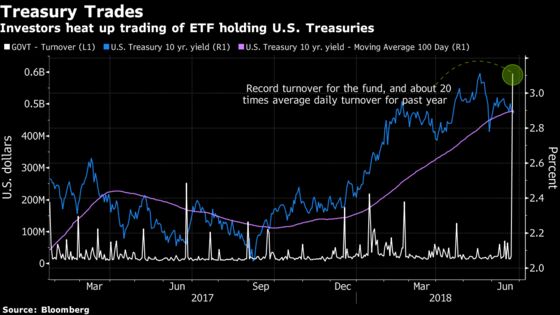 "Momentum players seem to be loading up on Treasuries ever since the 10-year yield broke downside of the 100 daily moving average early last week," said Dave Lutz, head of ETFs at JonesTrading Institutional Services.
On Friday, President Donald Trump revived concerns about a global trade war with a threat to impose 20 percent tariffs on cars imported to the U.S. from the European Union. That only added to anxiety in the market during a week in which investors had to weigh an escalation of trade tensions between the U.S. and China as the Federal Reserve signaled a faster pace of policy tightening.