Indonesian Top Fund Manager Looks at Reserves to Predict Stocks
(Bloomberg) -- Investors looking to chart a path through Indonesia's jungle of a stock market this year could do worse than use the country's foreign-exchange reserves to guide them, according to one of the country's best-performing fund managers.
Jemmy Paul, chief executive officer of PT Sucorinvest Asset Management, sees more downside ahead for the country's beleaguered shares as those reserves continue to decline, and is waiting for signs of stabilization before increasing positions. Currency reserves are a better way to gauge the direction of the market than relying on swings in the rupiah, Paul said in an interview in Jakarta last week.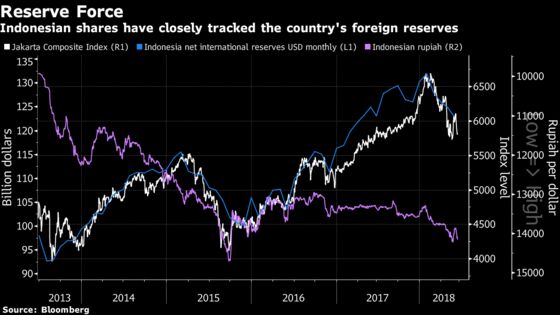 "Stocks have rallied even when the rupiah weakened," he said. "But as soon as our reserves decline, investor confidence starts to rattle and equities head south."
The benchmark Jakarta Composite Index is set for its worst quarterly retreat in nearly three years, having fallen 5.3 percent from the end of March. Caught up in an emerging-market selloff on the back of the U.S.-China trade spat and as inflation ticks higher, Indonesian securities have slumped, leading Bank Indonesia to raise rates and intervene to defend its tumbling currency.
That intervention comes at a cost: currency reserves have fallen to $123 billion in May from a record $132 billion in January, and that's not reassuring equity investors. Foreigners are on track to pull money from the stock market for four consecutive quarters, which would be the longest streak of outflows since the Asian Financial Crisis in the late 1990s.
Should reserves extend their slide, investor confidence would continue to fall too, according to Paul.
Still, Indonesia should have enough of a buffer to defend the rupiah, according to Bank of America Merrill Lynch strategist Rohit Garg. Reserves would have to drop to $110 billion to signal an "aggressive and persistent depletion," he said last month.
Paul doesn't expect the benchmark index to enter a bear market, a 20 percent slide from its record close in February and about an 8.7 percent decline from Monday's close of 5,859.083. But he sees more volatility ahead and is willing to be patient with an elevated cash pile.
"I think the downward risk for Indonesian equities is still there," said Paul. "I would probably start buying again when the index falls to around the 5,500 level, unless signs of improvement emerge earlier."
The Sucorinvest Equity Fund has outperformed 97 percent of its peers over the past three years, and is up almost 6 percent this year. That compares with an 8 percent decline in the JCI index, according to data compiled by Bloomberg.
Correction: The headline on an earlier version of this story included the word "reverses" in place of "reserves."