Global Trade Concerns Send Singapore Stocks to a Nine-Month Low
(Bloomberg) -- Singapore stocks slumped to their lowest level in almost nine months as concerns about prospects for global trade dragged markets lower.
The Straits Times Index dropped 0.8 percent at the close after briefly entering a correction zone. The gauge has slid 9.8 percent since its May 2 peak, nearing its first 10 percent slide from peak to trough in more than two years.
Trade tensions between the U.S. and other economic behemoths and rising interest rates have jolted markets, along with worries over higher crude oil prices. Benchmark gauges in Malaysia, Vietnam and Thailand have entered a correction, and the Philippine Stock Exchange Index slid into a bear market territory last week, holding on to its title of Asia's worst market this year.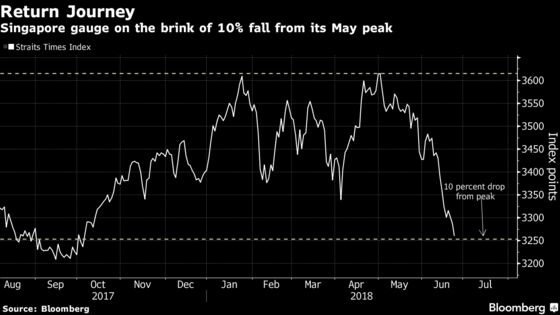 "Singapore has been hit because it is a liquid market where foreigners can pull out enough volume and at a quick enough pace," said Nicholas Teo, a trading strategist at KGI Securities (Singapore) Pte. Teo sees "significant headwinds" for the rest of the year from prospects of higher rates and trade war concerns.
Morgan Stanley strategist Jonathan Garner wrote that deteriorating economic backdrop amid Fed tightening, weaker liquidity in China, strengthening dollar and escalating trade tensions between U.S. and China, have led to significant downgrades in index targets across Asia.
Singapore has highest proportion of stocks in oversold territory in at least a year, according to data compiled by Bloomberg. The Straits Times gauge last saw a protracted decline over a three-month period through Jan. 21, 2016, when it tumbled 18 percent.
For Jingyi Pan, market strategist at IG Asia Pte., share values will rebound once the risk-off sentiment subsides.
"The prices that we have are a steeper pullback than it should be. STI is a bit lower than what it should be, given the kind of growth momentum that we still see," she said by phone. "Given that the reaction is a bit overdone, I'd say that rebound should come."