The Trade War Has Sent the Yield Curve to Its Flattest Since 2007
(Bloomberg) -- The Treasury curve just keeps getting flatter.
The gap between 2- and 10-year yields reached a fresh year-to-date low Monday, underscoring the Federal Reserve's dilemma over what Chairman Jerome Powell has called the real perplexing question in the collapsing curve: how low long-term yields are. This reality is prompting several Wall Street firms to cut or question their year-end forecasts. Morgan Stanley's rates team said Friday that the 2018 peak for 10-year Treasury yields is in the rear-view mirror.
Fresh signs that Washington appears set to step up its trade war with China sent investors out of riskier assets and into the safety of U.S. government debt, pushing the 10-year yield below 2.88 percent Monday and the 2- to 10-year yield spread to its narrowest since August 2007. The gaps between 5- and 30-years and between 7- and 10-year yields are still near multi-year lows.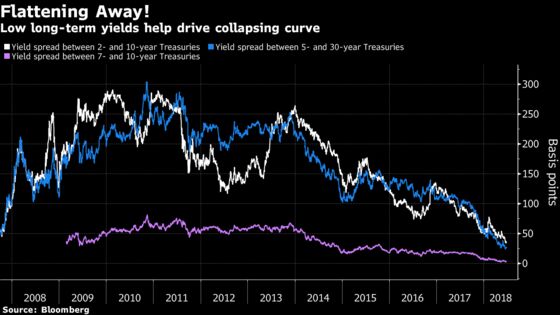 The 2- to 10-year spread will narrow to 30 basis points by the end of this year and to 10 basis points by June 2019, according to Societe Generale.
"We do not think the curve is too flat and recommend positioning for a further flattening," a team of the bank's strategists, including Subadra Rajappa, wrote in a note. "We continue to see the 10-year UST getting increasingly sticky around 3%."
Worsening trade rhetoric and recent policy actions by the European Central Bank being "more dovish" than expected triggered analysts at JPMorgan to trim their year-end forecast for 10-year yields to 3.2 percent from 3.3 percent. That combined with the firm's prediction for the path of 2-year notes, seen at 3.05 percent, puts their forecast for the 2- to 10-year curve flattening at 15 basis points, according to a June 22 note authored by Alex Roever and Kimberly Harano.
Investors and policy makers have been closely monitoring the shape of the curve because they've been on guard for it to invert, a shift that has historically preceded recessions. Yet despite the growing focus, so far the Fed hasn't altered its normalization plans. This month, it boosted its outlook to four total interest rate increases in 2018 from the three it envisaged in March.
"It makes all the sense in the world that the short end would come up," as we are lifting rates, Powell told reporters in Washington on June 13. "The harder question is what is happening with long rates."
Over the last two decades, Fed officials arguably have never so publicly discussed their unease about the yield-curve flattening and potential inversion, said Gina Martin Adams, chief equity strategist for Bloomberg Intelligence on Bloomberg radio Monday.
While Fed officials ponder this long-end rates puzzle -- which Powell postulated is due in part to a historically low term premium and global risk-off haven demand for U.S. debt -- Wall Street just keeps doubling down on recommending the flattener trade to clients.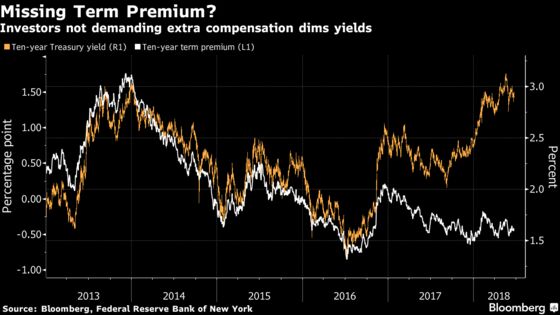 "We have a flattening bias on the curve in the U.S. and the Fed's hawkish tone at the current FOMC makes it even less likely that the long end will sell off," wrote strategists at Barclays, including Rajiv Setia, in a note on June 22.