As Tide Goes Out, Polish Fund Giant PZU Hunts for Liquidity
(Bloomberg) -- With global stimulus on the ebb, divining for the diminishing pools of emerging-market liquidity has become a top priority for Poland's second-biggest investment fund.
"Liquidity will test all solutions," said Konrad Augustynski, a fixed-income portfolio manager at PZU, said in an interview in Warsaw. "You need to be able to execute your strategy. As investors go tactical, they search for opportunities, mostly for liquidity."
As regulators from the U.S. Federal Reserve to the European Central Bank unwind a decade of unprecedented financial-market support, the retreating cash tide is putting a premium on easy-in, easy-out trades. Poland and its peers in eastern Europe were initially viewed as a safe harbor when the two-year developing-market rally hit a wall. But their bonds and currencies joined the retreat in recent weeks amid mounting concern their central banks are on the wrong side of the global tightening trend.
This is the year for "choosing investments that aren't explosive," said Marcin Adamczyk, the chief executive officer of TFI PZU, which has 20 billion zloty ($5.4 billion) under management. "One needs to apply a diverging approach to monetary policies and search for a safe haven inside emerging markets."
State-run insurer PZU is the poster child of the Polish government's "re-polonization" efforts after buying a controlling stake in the country's second-largest lender, Bank Pekao SA, from UniCredit SpA in 2016. The accompanying tie-up of PZU SA's mutual fund unit with Pioneer Pekao Investment Management SA created a heavyweight touting exposure to central and eastern European debt to investors.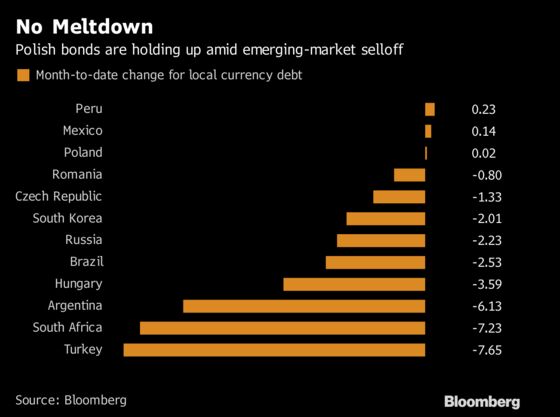 Despite market turbulence, Poland's economic growth of more than 5 percent and subdued inflation means the nation is still an emerging-market "stronghold," Adamczyk said.
Poland's local sovereign bonds have handed investors a 0.02 percent gain in dollar terms this month, the third-best performance among emerging markets tracked by Bloomberg Barclays indexes. That compares with a 2.2 percent loss for the asset class as a whole and declines of 3.6 percent and 1.3 percent for Hungary and the Czech Republic, respectively.
Poland's strong fundamentals have prompted some analysts to suggest its emerging-market classification might be a misnomer. For Adamczyk, who oversaw $2 billion in developing-nation bonds at NN Investment Partners in The Hague before he was hired to run PZU's investment business, the question is ultimately "philosophical."
Read More: Poland Seeks to Be 'EM With an Asterisk' as Core Rates Lift Off
"When volatility passes a certain threshold, we're still viewed as EM rather than DM."