With Greek Debt Deal in Pocket, Tsipras Finally Wears Tie
(Bloomberg) -- Now that Greece's creditors have reached a landmark debt deal, the only remaining question was answered late Friday, Alexis Tsipras put on a tie.
That's what the famously tie-less Greek prime minister had pledged to do if and when Europe came up with a viable solution to the country's debt burden. In February 2015, just days after the left-leaning firebrand was swept to power pledging to tear up the country's austerity plans, he was presented with a tie by Italy's then-Prime Minister Matteo Renzi.
Tsipras survived the turmoil of the early months of his government by agreeing to creditor demands for more fiscal belt-tightening and a new bailout. That plan is set to expire in two months, and euro-area finance ministers early Friday concluded a package of debt-relief measures to help Greece survive without a lifeline.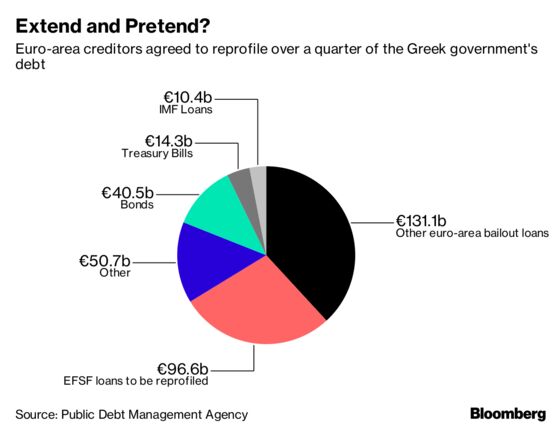 "It's a win-win for both Tsipras and the European creditors," said Wolfango Piccoli, co-president of consultants Teneo Intelligence in London. "The debt relief deal will allow Tsipras to claim victory at home. At the same time, the European partners can frame Greece's exit as a success, and most importantly, Athens will not be on the agenda for a while."
Tsipras said at a meeting with President Prokopios Pavlopoulos Friday that the "historic" agreement makes Greece's debt sustainable, allowing the country to return permanently to markets, and that the country will keep its agreed reforms. In a reference to the tie, "bets must be honored," he added, meeting his promise later in the day when he wore a red tie to address government lawmakers in Athens, even if it wasn't the one given by Renzi, only to take it off as soon as he finished speaking.
Under the agreed debt-relief plan, maturities on 96.6 billion euros ($112 billion) of loans Greece has received from its second bailout would be pushed out by 10 years. The extension will be accompanied by a 10-year grace period in interest and amortization payments on the same loans. Creditors also agreed to disburse 15 billion euros aimed at helping Greece repay arrears, finance maturing debt and build up a cash buffer of 24.1 billion euros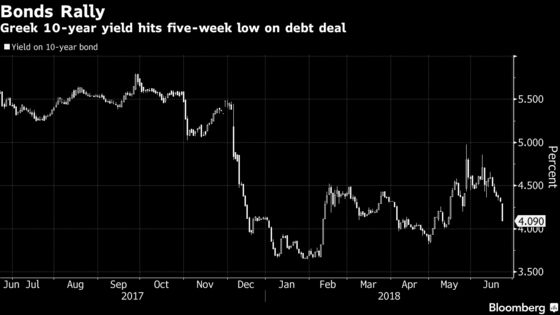 "The deal is good news for Greece and on the optimistic side of what was expected," said Athanasios Vamvakidis, a strategist at Bank of America Merrill Lynch in London. "Greece buys more time and the debt becomes sustainable, at least on paper. The deal also includes a clear post-program monitoring framework to make sure Greece sticks to the targets. Markets are reassured for now. But it is up to Greece to succeed. Growth is the key."
The government will wait to see how investors react to the deal in order to decide when it issues a new bond, following its return to the markets last year. Greek stocks fell Friday, erasing earlier gains, while bonds rose.
If markets welcome the new terms, a new bond sale could happen as soon as July, according to a person familiar with the matter, who asked not to be identified since no decision has been made. Greece isn't under liquidity pressure to issue new debt, and the government can wait until September to review its strategy, the person said.
Creditors acknowledge that the deal doesn't solve the problem forever, promising to revisit the issue in 2032. Also, European Central Bank President Mario Draghi stopped short of declaring Greek debt sustainable. International Monetary Fund Managing Director Christine Lagarde expressed the fund's reservations about the country's long-term debt path.
"If Greece grows by 2 percent in the decades ahead, things will be easy; but if it grows by 1 percent, nothing will add up," said Vamvakidis. "This means Greece needs not only to avoid backtracking from what has been achieved under its long adjustment program, but to get serious about structural reforms to attract investment and increase potential growth. It is not time for complacency."