Trade Is an Afterthought in Stock Market Still Glued to Earnings
(Bloomberg) -- Of all the forces swaying equity prices, earnings expectations are the hardest to see. They don't make headlines, are difficult to quantify and get lost in the din around trade wars and politics.
Yet ignoring them is to miss the biggest part of what influences the market -- the force that keeps the peace in a week like this. Stocks twist and turn, Donald Trump tweets about China and Europe, the Fed ponders higher rates. Then a five-day chart shows major U.S. indexes have barely budged, because nothing has happened to cause earnings estimates to change.
"It's certainly muting some of the impact we might otherwise see," Peter Jankovskis, co-chief investment officer at Oakbrook Investments, said by phone. "That's giving hope to people that if things are resolved that we'll be able to maintain that momentum, and that's part of the reason that we're not seeing the dramatic moves that we saw during the first quarter."
Profit forecasts have been calling the tune in equities all year. According to Bank of America, a strategy that buys and sells shares based on earnings sentiment has beaten every other equity factor in 2018. Companies with the best estimate revisions have outpaced those with the worst by 13 percentage points.
Estimates keep rising. At present, analysts expect S&P 500 companies to earn $158.70 a share in 2018, $175.90 in 2019 and $193.70 in 2020. Each is up appreciably from the end of the first quarter. Using next year's projection, the index's price-earnings ratio -- above 21 based on profits in the last 12 months -- falls to around 16, smack at its historical average.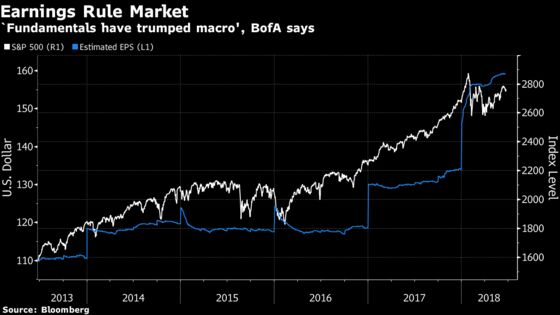 Calm prevailed in the market during a week when Trump's threat of tariffs on European auto imports and $200 billion of Chinese goods provoked promises of retaliation. The S&P 500 moved no more than 0.6 percent each day and ended the week down 0.9 percent, its first decline in one month.
None of this is to say investors are totally ignoring the trade drama. Underneath the tranquil surface, fissures have flared as money flowed out of multinational firms to domestic-oriented stocks.
The Dow Jones Industrial Average, including global giants such as Caterpillar and Boeing, slipped 2 percent for the worst week in three months. By contrast, small-cap stocks, which derive their revenue mainly from within the U.S., reached fresh records. Up eight weeks in a row, the Russell 2000 is enjoying its best run in almost five years.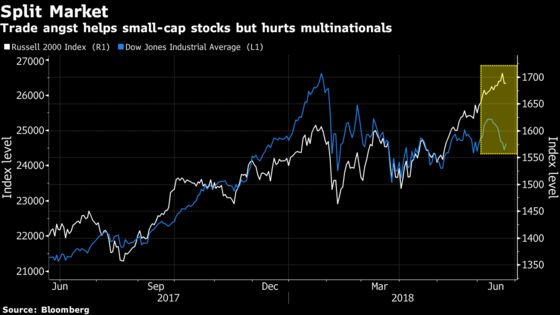 Within industries, trade is also dividing stocks. In tech, chipmakers are trailing internet shares. Among industrials, machinery manufacturers are lagging behind transports.
Yet all the rotations have done little damage to the broad market and the S&P 500 hovered near a three-month high. While no real impact from a trade war is expected for the second quarter, investors will look to the earnings calls to gauge the potential fallout, according to Joe "JJ" Kinahan, the chief market strategist at TD Ameritrade.
"We'd all be surprised if you didn't hear a Caterpillar and a Deere and a Boeing sort of address it," he said by phone. "The area of particular interest is going to be technology and more specifically semiconductors. Will they address it? Do they see it as being a hindrance going forward?"
Banks are scheduled to start the reporting season next month. Profits from S&P 500 companies are expected to increase 20 percent in the March-June period, analyst estimates compiled by Bloomberg show.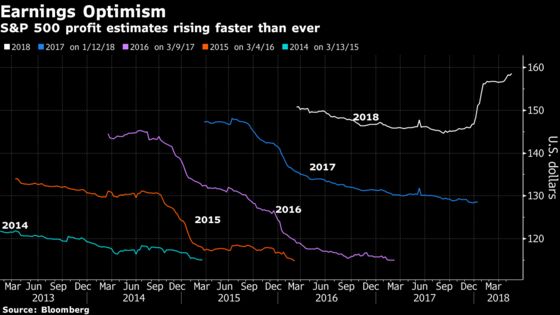 A 10 percent increase in import costs from trade tariffs would reduce S&P 500's per-share earnings by 3 to 4 percent, according to BofA strategists led by Savita Subramanian. Meanwhile, driven by tax cuts and improving demand, analysts are boosting their earnings forecasts at an unprecedented pace.
"The equity market has remained resilient despite rising trade tensions; fundamentals have trumped macro so far this year," Subramanian wrote in a note earlier this week. "Scary headlines might be more hype than reality: as of now."