Industrial ETF Is Sinking and Could Drag S&P 500 Down With It
(Bloomberg) -- As the spread between industrials and the rest of the S&P 500 Index widens, the largest exchange-traded fund tracking the sector is signaling that another market drop is on the horizon.
The $11 billion Industrial Select Sector SPDR Fund, or XLI, historically has been "ridiculously, highly correlated" to the moves of the broader market, said Matt Maley, an equity strategist at Miller and Tabak & Co. This isn't entirely surprising considering the fund's 10 largest holdings include Boeing Co., Caterpillar Inc. and General Motors Co. But as those stocks have tumbled recently so has the ETF, which is down roughly 5.5 percent in the last 10 days.
"If history is any guide, and the XLI breaks below its May lows anytime soon, it won't be long before the S&P follows," Maley said. "Everyone talks about what's going on in the tech stocks, but we've also seen if you look at the industrial names, they've played a bigger role in the leadership in the market that most people realize."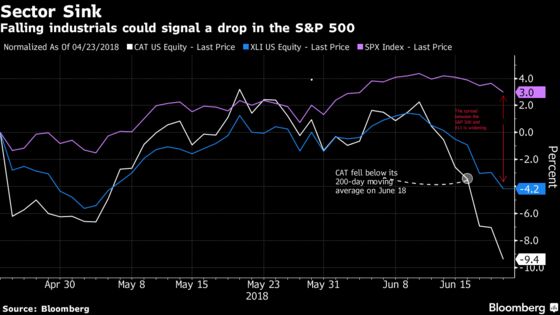 The S&P 500 Industrials Index has fallen 4.6 percent since June 12, when Caterpillar started sliding. The S&P 500, however, has held up, dropping less than 1 percent over the same time frame. That spread could signify an impending drop for the benchmark.
Boeing is XLI's largest position and it contributed the most to the fund's decline, followed by Caterpillar, which fell below its 200-day moving average on June 18, according to data compiled by Bloomberg.