Greece's Deal Leaves Too Much to Chance
(Bloomberg Opinion) -- The government must be ecstatic, and the prime minister's tailor even happier. Greece has secured a much more generous than expected deal that should allow it to put its bailout behind it and let Alexis Tsipras put on the tie he promised to forgo until the country's debt woes were over.
But there remains one sticking point: whether the country can raise money from the bond market on its own. Until Greece can successfully sell a multi-billion euro bond to international investors, it can't truly be said to be on a sustainable path.  
An offering could come as soon as July, but yields need to fall further and investors need to turn up in size. Neither is certain.
For now, the European Union, the International Monetary Fund and European Central Bank have chosen to extend and pretend.
Greece will get an additional 8 billion euros ($9.3 billion) of breathing space, bringing the country's total buffer to 24 billion euros. Germany, too, has relented: It has acquiesced to a 10-year extension of Greece's debt maturities.
None of this proves Greece can access the bond market in the same way as other European countries. Before this crunch meeting, Greece had planned to sell 4 billion euros in three and 10-year bonds this year. But May's political turmoil in Italy put paid to the idea. With yields this high, it's tough to see how the country can still issue. Investors, too, will want to see more stability before committing funds.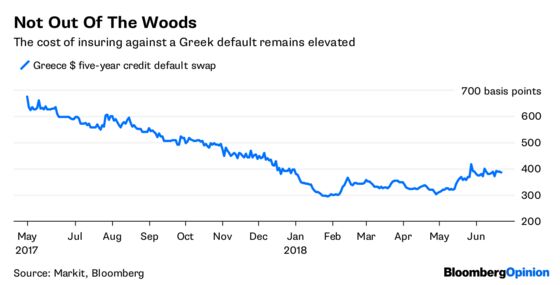 Greece's last bond sale, a 3 billion-euro offering maturing in 2025, went terribly after its launch in February: Yields spiked 50 basis points to more than four percent on the day of launch. The buyers are still smarting.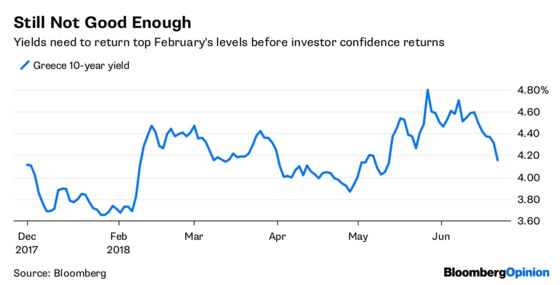 Yields had begun to recover — but then the Italian crisis erupted and Greece's yields were swept higher, from where they have not yet fully retreated. The 2025 bond still trades 30 basis points higher than at launch. Yields on the 10 year — the maturity the country needs to sell to prove it has real access to the capital markets — are still more than four percent. At that level, it doesn't make sense for Greece to come to the market.
Confidence is all when bailouts come to an end. The Greek yield curve needs to regain its poise before investors will return in sufficient size and regularity. With 320 billion euros of debt outstanding, the prospect of Greece failing again is too horrific for the EU to contemplate, so it has taken the easy political option. It's a bet that at some stage this year — or next year if need be — Greece can pass the market access test. It's amazing that so much has been left to chance.