China Stocks Hover on Brink of Bear Market as Grim Mood Persists
(Bloomberg) -- Chinese stocks ended higher Friday but remained on the edge of a bear market, as investors weighed concerns over a possible trade war with the U.S. against a domestic regulatory order aimed at preventing a downward spiral of selling.
The Shanghai Composite Index closed up 0.5 percent, after swinging between gains and losses throughout the day. Its weekly decline was trimmed to 4.4 percent, still the worst showing since early February. The measure has tumbled nearly 19 percent from its January high, approaching the 20 percent threshold for a bear market. Adding support on Friday were reports that brokers must seek government approval before liquidating shares pledged as collateral for loans.
"The news that brokers were ordered not to liquidate pledged shares after prices fell to key levels soothed short-term sentiment," said Dai Ming, Shanghai-based fund manager with Hengsheng Asset Management. "Upside may be limited as China-U.S. trade issues and risks linked to share pledges remain an overhang in the medium to long-term."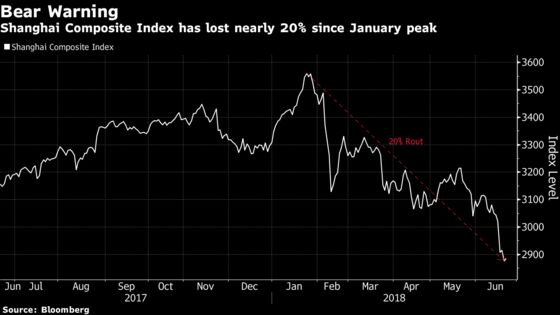 The Shanghai index is trading near its lowest level since June 2016 and is one of the world's worst performers this year, bogged down by Beijing's deleveraging campaign, weaker-than-expected economic data and an increasingly heated trade dispute between China and the U.S. At 2,889.76 points, it is trading below levels that previously were seen to trigger state support.
Some $1.6 trillion has been wiped from Chinese stocks since Jan. 24. Risks associated with share pledges are among the major overhangs flagged by analysts, as share price declines could trigger margin calls and forced liquidation, which would add to selling pressure on the market.
Morgan Stanley expects the CSI 300 Index, which is down 18 percent since a January peak, to enter a bear market that could last a year, weighed by slowing momentum in China's economy and liquidity tightness. If U.S. President Donald Trump goes through with a threat to put tariffs on another $200 billion of Chinese imports, it could cut as much as half a percentage point from the nation's economic growth, according to economists.
Chinese policy makers have tried to soothe investor concern. People's Bank of China Governor Yi Gang pledged on Tuesday to use monetary policy comprehensively to keep liquidity appropriate and stable, a view echoed in a subsequent cabinet meeting chaired by Premier Li Keqiang.
The ChiNext gauge of small caps and technology stocks rose 1.8 percent Friday after a similarly bruising patch that's seen it slide 11 percent this month alone. Hong Kong shares also saw choppy trade. The benchmark Hang Seng Index rose 0.3 percent as of 3:57 p.m. local time.
To contact Bloomberg News staff for this story: Jeanny Yu in Hong Kong at jyu107@bloomberg.net;Amanda Wang in Shanghai at twang234@bloomberg.net
With assistance from Editorial Board