Stock Volume Surges as Russell Change Spurs Index Trader Frenzy
(Bloomberg) -- An eventful week in the stock market ended with a bang for trading desks as FTSE Russell reshuffled its equity benchmarks.
If China-U.S. trade tensions and bank stress tests weren't enough, Friday saw share volume explode at the close as managers traded in and out of stocks affected by the changes. For the broader Russell 3000 index, Jazz Pharmaceuticals Plc and Roku Inc. are among the additions, while Delphi Technologies Plc and Ensco Plc will be cut, according to data provided on the index provider's website.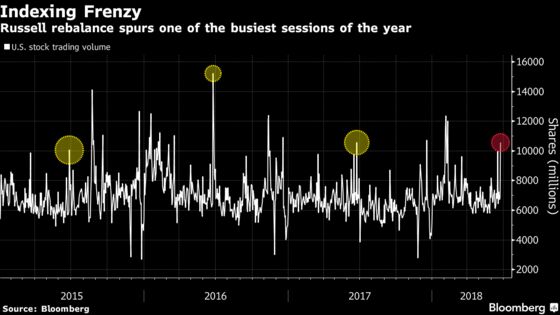 In five of the last six years, reconstitution day ranked in the 10 busiest trading sessions, data compiled by Bloomberg show. This year's revisions pushed volume on all U.S. venues above 10 billion shares, compared with the 2018 average of 7.2 billion.
Index trackers such as exchange-traded funds buy additions and sell deletions to mimic changes. They're often buying from speculators who have been loading up in anticipation of the rebalancing. As liquidity improves, stock pickers usually get lured in, as well.
The actions by various investor types tend to cancel out each other. As a result, Russell's rebalance rarely triggers big price swings. Except for 2016's adjustment, which fell on the same day with the Brexit vote, the S&P 500 has moved more than 0.5 percent only one other time in the past decade. It rose 0.2 percent Friday.
"The Russell Reconstitution has attracted an immense amount of attention over the last few years," Ivan Cajic, Investment Technology Group's head of index research, wrote in a note earlier this week. "Many of these factors will result in varying performance and can vary on a name-by-name basis."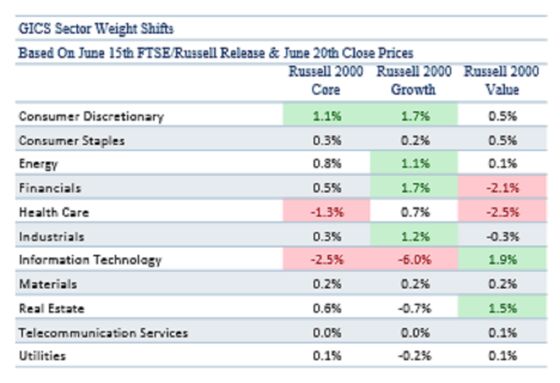 Within the large-cap Russell 1000 Index, financials and consumer discretionary will see the biggest shift, with the former rising in the growth category while the later becomes more value-oriented, according to Steven DeSanctis, an equity strategist with Jefferies LLC.
The biggest change comes in small-cap tech stocks. The group's weight in the Russell 2000 growth index will drop by 6 percentage points as some software and Internet companies migrate to the large-cap counterpart, Jefferies data showed.
"I wish I lost the weight that tech did in the Russell 2000 Growth," Desanctis wrote in a note earlier this month.
Shrinking tech representation also caught the attention of Lori Calvasina, head of equity strategy at RBC Capital Markets. The group is so loved that it may now undergo selling as fund managers seek to exit, she said.
"Given that many small-cap portfolio managers don't like to stray too far from their benchmarks on sector weightings, we see risk they will trim exposure," Calvasina wrote in a note Thursday.
FTSE Russell's global stock indexes are used as benchmarks for about $16 trillion in assets, the company said in a statement earlier this month. An estimated $9 trillion in investments track Russell indexes in the U.S., which include the Russell 1000 and Russell 2000.