BlackRock's Resources ETF Posts Record Inflow as Prices Tumble
(Bloomberg) -- Trade tensions between the U.S. and China may have provided a good entry point for investors seeking to boost their holdings in commodity producers.
On Monday, as the price of BlackRock's iShares STOXX Europe 600 Basic Resources headed for the biggest two-day loss since March, investors poured 51 million euros ($59 million) into the exchange-traded fund, the most since its inception in 2002. The price of Frankfurt-listed ETF has started to bounce back, rising about 2 percent on Friday.
The fund, which trades under the ticker SXPPEX, took a hit as concerns that a potential trade war would slow commodities demand sent shares of raw-materials producers tumbling to the lowest in more than six weeks. Shares have since rebounded on optimism that China and the U.S. could return to the negotiating table before U.S. tariffs take effect July 6.
"It's natural for a bid to come into the market at that point," Andrew Cosgrove, an analyst with Bloomberg Intelligence, said in a telephone interview. "Most of the macro picture is pretty solid. Growth momentum might be slowing a little bit, but it's still pretty constructive."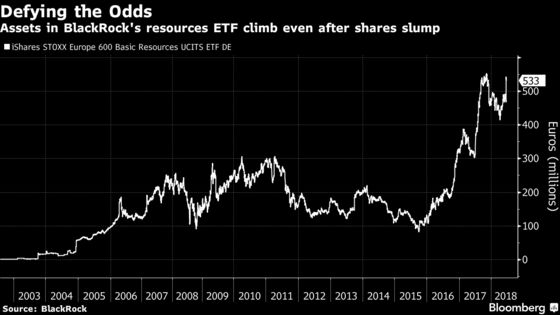 The share slump paved the way for investors seeking a cheaper way to add commodities. The ETF tracks an index whose members trade at 13 times earnings, lower than the MSCI All-Country World Index and the S&P 500 Index.
More than a fifth of the fund is allocated to Rio Tinto Group, which delivered a return on equity of about 21 percent, almost twice the median of over 5,000 companies on the Bloomberg World Index.