As Stocks Lose $2.1 Trillion, Asia Markets Bear Brunt of Selloff
(Bloomberg) -- It's been a brutal two weeks for global equities, but for those invested in Asia it's been even worse.
More than three-fourths of the $2.1 trillion lost in stock values worldwide came from the region. China bore the brunt, with the selloff erasing $746 billion as the Shanghai Composite Index came close to entering a bear market.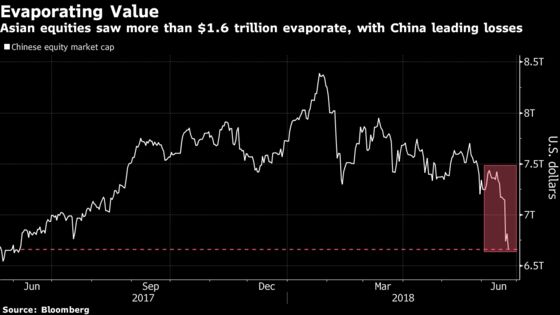 While some analysts say dumping Chinese shares is a mistake, strategists from Goldman Sachs Group Inc. to Morgan Stanley slashed forecasts for Asian markets this week. The Philippine benchmark equity index joined Vietnam's into a bear market, and gauges of Malaysia, Hong Kong, Thailand and Indonesia are down more than 10 percent from their highs.
Indian equities were the only ones in Asia adding value in the two weeks through June 21. Minutes from the recent RBI policy meeting showed the central bank was less hawkish than some market participants had expected.
Here is how much Asian markets suffered in the past two weeks (with India as the exception):
| Country | Change in equity market cap (U.S. dollars, millions) |
| --- | --- |
| China | -745,864 |
| Hong Kong | -359,190 |
| South Korea | -154,443 |
| Japan | -124,427 |
| Taiwan | -55,891 |
| Thailand | -37,190 |
| Indonesia | -33,426 |
| Singapore | -30,178 |
| Australia | -23,947 |
| Philippines | -22,839 |
| Malaysia | -20,447 |
| Vietnam | -12,036 |
| Pakistan | -5,724 |
| New Zealand | -1,059 |
| Sri Lanka | -457 |
| India | +5,783 |