Telecom Italia Chief Is Under Fire After Bashing Directors
(Bloomberg) -- Telecom Italia Chief Executive Officer Amos Genish is expected to face tough questions at the phone carrier's June 25 board meeting after he criticized unidentified directors for feeding "untrue and unreliable speculation," according to people familiar with the matter.
The CEO, who was installed by the company's biggest investor Vivendi SA in 2017, will be asked to explain his unusually frank comments made to reporters who were summoned to a briefing on Wednesday, said the people, who asked not to be named discussing a management issue. Genish's position could be at risk if he doesn't address the concerns of some board members, they said.
"Unfortunately there are some board members who are involved in feeding untrue and unreliable speculation, interfering with management's day-by-day work," Genish said, without elaborating and identifying the directors. "It's just noise, not welcomed and not expected, but I won't be intimidated from getting my job done."
Some Italian newspapers in recent days have published reports highlighting criticisms of Genish's management style and Telecom Italia's performance under his leadership from unidentified people at the company. The carrier's shares have dropped about 16 percent since Genish was appointed CEO on Sept. 28, compared with a 4 percent decline of Italy's benchmark FTSE MIB index and an 11 percent fall of the STOXX Europe 600 Telecommunications Index.
"The emergence of board conflict at Telecom Italia is an unhelpful distraction at a time when Iliad's entry is disrupting the market, while a spectrum auction and delicate network-separation process are looming," said Erhan Gurses, a Bloomberg Intelligence telecom analyst. The French low-cost operator founded by billionaire Xavier Niel started wireless services in Italy last month with the cheapest offer for near-unlimited data and calls.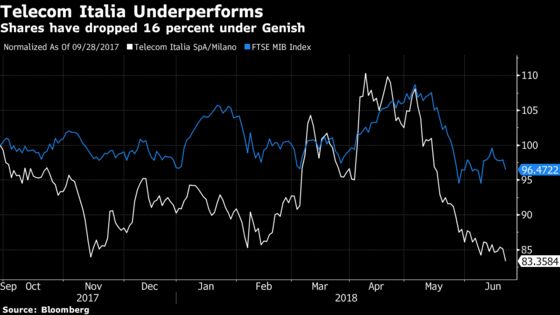 Asked about next Monday's board session, a Telecom Italia spokesman said the company doesn't comment on the agenda of a meeting that hasn't been held yet.
Genish's comments renewed investors' concern about the future of the former Italian telecom monopoly which has been at the center of a shareholder tussle since activist fund Elliott Management corp. built up a stake and wrestled board control from Vivendi at a May 4 investors' meeting.
Elliott defeated Vivendi, which owns 24 percent of Telecom Italia, after campaigning to improve corporate governance and pushing for asset sales. The loss of board control was a blow to Vivendi's biggest shareholder Vincent Bollore, the latest in a string of public and personal setbacks for the French billionaire. It was a milestone for Elliott -- the first proxy win in its four decades in operation.
Elliott named 10 members of the board, including Chairman Fulvio Conti. leaving five seats for Vivendi. Genish, who was on Vivendi's slate, also won Elliott's backing to remain as CEO. Genish took over from Flavio Cattaneo last year as the fourth CEO at Telecom Italia in the previous two years. Genish on Wednesday told reporters he is "strongly committed" to executing Telecom Italia's business plan.
Vivendi is considering calling a special investor meeting in a bid to win back control of Telecom Italia 's board, people familiar with the matter said Wednesday. The French media conglomerate probably will file its request as early as September for a shareholders meeting later in the year, they said. Vivendi wants to reaffirm its status as an industrial investor in the phone carrier, according to one of the people.