Return of `50 Cent' Prompts Remix of Notorious VIX Trade
(Bloomberg) -- Trading patterns associated with the volatility buyer nicknamed "50 Cent" have returned to the markets.
Throughout 2017, this trader made massive buys of out-of-the-money calls on the Cboe Volatility Index for $0.50 apiece as protection against a plunge in the S&P 500 Index. That strategy paid off spectacularly when volatility went haywire in February.
Macro Risk derivatives strategist Vinay Viswanathan and its chief executive officer, Dean Curnutt, have highlighted a number of trades over the past two weeks that share many similarities with those of the market participant who shares a moniker with rapper Curtis Jackson III. But before investors rush to copy that approach, Macro Risk Advisors offers a way to switch your style up.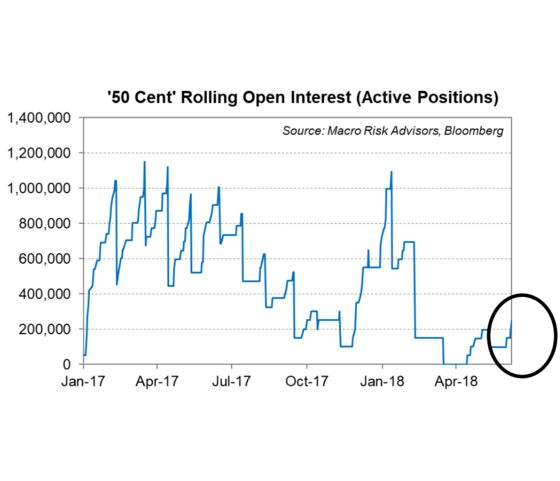 "While it is unclear why the hedging program restarted at the end of April, it could be because options in a certain strike or delta range finally matched the trader's preferred price range (the reason for 50 Cent's unusual trading behavior is likely a combination of a fixed hedging budget and a target VIX notional exposure)," according to the pair.
But while the volatility regime has largely repaired the damage from February's explosion, the trader's not getting the same bang for his or her buck. Before February, the calls purchased would be in-the-money if the VIX rose to 21 -- this time around, the so-called fear gauge would have to rise to 27. The VIX was trading at 13.8 as of 11:55 a.m. in New York.
Macro Risk Advisors moves from the realm of the musical to the avian for a trade tactic they prefer over 50 Cent's strategy.
"The likely return of 50 Cent supports our long volatility stance with a sub-13 VIX, though we prefer owning 'seagull' spreads instead of outright calls," they write.
This entails buying VIX calls that expire in July with a strike price around 17 and selling the July 23 call. Selling a put with the same expiry and a strike price of 12 further cheapens the trade.
It's a bet that "ongoing trade/geopolitical uncertainty," per Macro Risk Advisors, will keep equity market volatility from sinking to the unprecedented levels that prevailed during 2017. The premium collected from selling the put would then allow an investor to buy VIX calls that would become profitable with a spike in volatility much smaller than February's.