JPMorgan Sees Dividend Stocks as Emerging Markets' Silver Lining
(Bloomberg) -- Dividend-paying emerging market stocks may actually be the best bet for equity investors in a rising interest rate environment, despite the recent selloff in that space, according to JPMorgan Asset Management.
Over the last 20 years, high-yielding companies in developing markets have posted bigger returns than other types of equities when rates were rising, according to a note from global market strategist Ian Hui and his colleague Marcus Yiu at the $1.7 trillion investment manager. The group posted an annualized average three-month total return of 9 percent during periods when U.S. 10-year Treasury yields rose more than 25 basis points, they said.
That compares with an equivalent 6.2 percent return for emerging-market stocks and a 5.3 percent gain for those from developed countries with high dividends, the strategists wrote. Asian stocks with high payouts returned 7.8 percent, according to the JPMorgan analysis.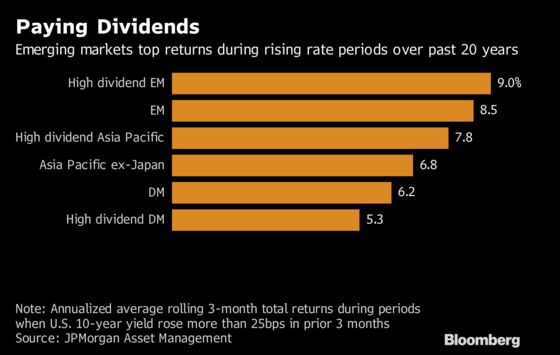 Rising rates are usually detrimental to dividend stocks, which are commonly treated as "bond proxies" in behavior, according to the note. But not all high-yielding indexes fare badly during such periods and emerging markets in particular appear to do better than their developed counterparts, the strategists said.
"I would expect emerging market high dividend stocks to outperform, but that's over a number of years," Hui said in a phone interview. "If you think EM growth is generally going to outperform then they look good, and if you think the U.S. dollar is generally going to weaken over a longer period of time, then I also think that's supportive of emerging markets."
That's the longer-term view for Hui, who sees the recent strength in the greenback giving way to weakness due to the budget deficit in the U.S.
"Dollar fears and interest rate fears might be driving markets right now but I think there is still some good news for EM, which can support what's happening there," he said.