Italy, Spain Bonds a Buy for Japan Funds as Rout Is Overdone
(Bloomberg) -- The selloff in Italian and Spanish bonds is overdone, and securities in both the nations are a good buy, according to some Japanese funds.
The market has overpriced the political turmoil in Italy, with an exit from the European Union unlikely, according to Asset Management One Co. and Nomura Asset Management Co. Spain's economic strength triumphs over politics for Sumitomo Mitsui Trust Asset Management Co., which bought the nation's debt after its sovereign credit rating was upgraded. All three point to the attraction of the yields offered.
"We don't see any problem in Italy and Spain over the medium and long term, and are particularly positive on Italy," said Yusuke Ito, a Tokyo-based bond manager at Asset Management One, which oversees 57 trillion yen ($516 billion). "The market reacted too sensitively this time as the underlying political phenomenon in Europe hasn't changed."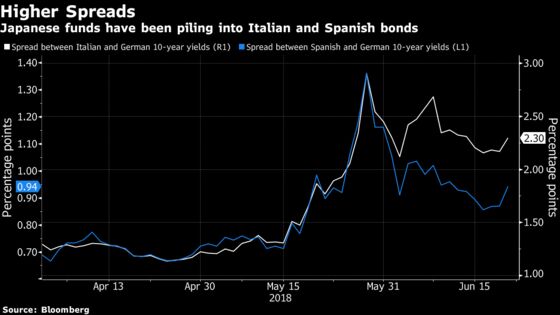 Yields in Italy have retreated from last month's highs amid a relief rally after a government comprising two anti-establishment parties took office. While there is a lack of clarity over the new administration's plans, strategists are starting to favor Italian bonds, which appear attractive after the recent slump and as concern about the nation's exit from the European Union eases.
Japanese bond investors have already been piling into Italy and Spain. They bought a net 196.4 billion yen of Italian debt in April, the most in two years, according to government data. At 349.9 billion yen, their purchases of Spanish bonds were a record for a second month.
Investors from the Asian nation were net buyers of 1.49 trillion yen of foreign bonds last week, the most since August, separate government data showed earlier on Thursday.
Behind the sanguine view on Italy is a bet that the EU will handle negotiations with the region's third-biggest economy better, says Nomura Asset.
"The European Union cannot treat Italy as similarly to Greece," said Shigeki Sakaki, chief strategist at Nomura Asset. He also pointed out that in terms of value, "Italian bonds offer higher spreads over German and French bonds."
To be sure, there are others who continue to be wary. Italy and immigration concerns are the "big risks" to the European Union at this point, Goldman Sachs Group Inc. Chief Executive Officer Lloyd Blankfein said this week.
Last month's selloff in Italian bonds spread to Spain, which itself grappled with a political crisis that saw Prime Minister Mariano Rajoy being ousted by Socialist leader Pedro Sanchez. He takes over an economy that looks set for a fifth straight year of expansion, with the European Commission predicting a growth of almost 3 percent in 2018.
Bonds in Italy and Spain dropped on Thursday ahead of an auction of Spanish debt. The yield on the nation's 10-year notes rose six basis points to 1.30 percent, while that on similar-maturity Italian securities climbed 11 basis points to 2.66 percent, as investors in Europe also awaited the Bank of England's rate decision.
The year 2018 could mark a "turning point" after 10 years of surging Spanish regional debt since the financial crisis, S&P Global Ratings wrote in a June 18 report, citing an improving creditworthiness. The future is looking brighter, said S&P, which in March raised the nation's credit rating one level to A-.
"We will be increasing our positions further" in Spain, said Hideaki Kuriki, chief fund manager at Sumitomo Mitsui Trust Asset, which oversees $91 billion. Spanish bonds were dragged down by the selloff in Italy, but they will be attractive on price dips, he said, adding that "both Italy and Spain could be an alternative for investors who can take more risks."