Italian Assets Resume Slide After Euroskeptic Appointments
(Bloomberg) -- Italy's bonds and stocks slid as the appointment of two euroskeptics to key posts in the nation's parliament reignited investor concerns over the populist government's policy.
Shorter-dated bonds led the debt selloff, coming after the securities had recovered ground this month as Finance Minister Giovanni Tria pledged Italy's commitment to the single currency. The benchmark stock index headed for a two-week low as banks fell, while the euro slipped to an 11-month low.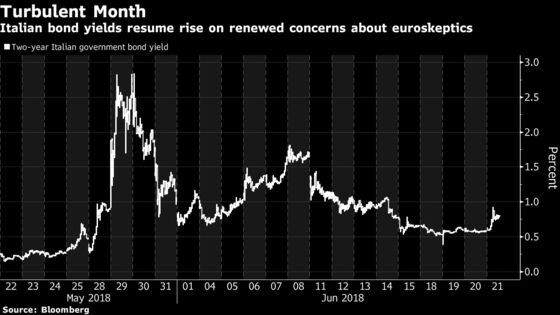 The Italian Senate picked euroskeptic economist Alberto Bagnai, author of two books advocating the dismantling of the European monetary union, as head of the finance committee. Claudio Borghi, an adviser for the League party on the economy and on issues such as the mini-bots short-dated notes, was named the head of the budget committee in the lower house. The populist government program doesn't include any reference to a possible option for a euro exit.
"There are a couple of high caliber League euroskeptics getting appointed to important parliamentary jobs in Italy this morning: Borghi and Bagnai," said Antoine Bouvet, an interest-rate strategist at Mizuho International Plc. "The fact that they get roles that have to do with finance and budget has been understood by the market as a sign that the League intends on pushing its anti-euro ideas."
Two-year bond yields climbed as much as 33 basis points to 0.93 percent, the highest since June 14, with the decline picking up pace after early losses sparked by bond supply from Spain. Benchmark 10-year yields rose as much as 17 basis points to 2.72 percent, widening the spread over equivalent German bonds that were little changed on the day.
Italy's FTSE MIB index fell as much as 1.5 percent, led by UniCredit SpA, the country's biggest bank. Stocks had also recovered this month, though remain 11 percent down since a peak hit in early May. The euro trimmed losses after falling by as much as 0.5 percent to $1.1509, the lowest since July.