Greece's Creditors Said to Agree on Debt Relief Package
(Bloomberg) -- Greece is set to get a 10-year extension on some of its bailout loans as part of a landmark deal struck by the country's euro-area creditors aimed at easing its mountain of debt, according to two officials familiar with the matter.
The debt compromise reached in Luxembourg by euro-area finance ministers comes after months of acrimonious talks and just as the Mediterranean nation is set to exit its bailout in August.
Under the agreed debt relief plan, maturities and interest payments on around 100 billion euros ($116 billion) of loans Greece has from its second bailout would be pushed out by 10 years. The extension will be accompanied by a 10-year grace period in Greece's interest and amortization payments on the same loans.
This extension and grace period are part of a package of measures aimed to ensure that Greece will be able to service its debt over the next decades.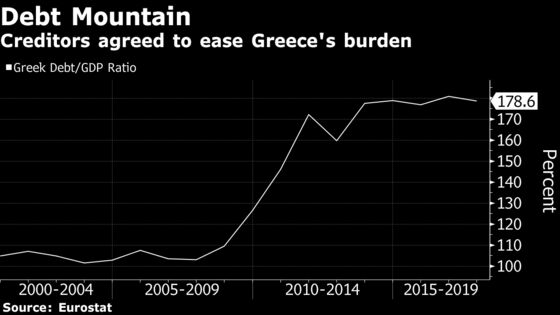 Among these is also the final disbursement of 15 billion euros to help Greece repay arrears, finance maturing debt and build up a cash buffer of at least around 20 billion euros that will help the country access financial markets. Some of that cash is expected to be used to buy back debt it owes to the International Monetary Fund or the European Central Bank that is more expensive and matures sooner.