Goldman Cuts Asia Stock Target on Mounting Trade, Macro Risks
(Bloomberg) -- Even Goldman Sachs is turning less optimistic on Asian stocks amid growing uncertainty in global markets.
The long-time bull has pared its 12-month target for the MSCI Asia Pacific excluding Japan Index to 625 from 640. Trade tension between the U.S. and China has escalated against an unfavorable macro backdrop, as global growth is slowing with tighter U.S. monetary policy and a stronger greenback, strategists led by Timothy Moe wrote in a report dated Thursday.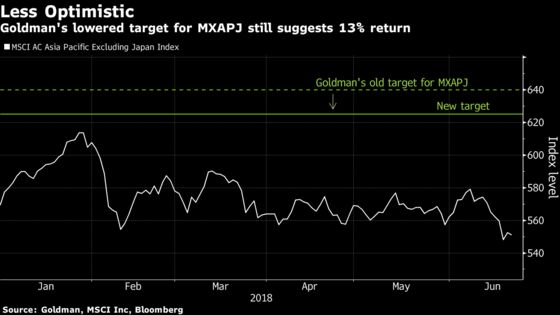 The MSCI Asia Pacific Ex-Japan Index fell 0.23 percent to 551.2 as of 12:23 p.m. in Hong Kong, suggesting that Goldman's target still has about 13 percent upside. The region's stocks should be able to generate a return that is in line with company earnings growth, the strategists said, adding that investors should focus on domestic-oriented and secular growth opportunities.
Here are some details of Goldman's recommendations:
Reiterates overweight on China and India
China depository rights (CDR) introduction, MSCI inclusion are two positive events for China market
Heavy Hong Kong IPO pipeline and tighter China credit environment are "manageable"
Upgrades healthcare stocks in Asia to overweight to bet on sector's long-term growth
Downgrades regional banks to marketweight as easier monetary policy in China may reduce investor focus on Chinese lenders
Cuts Asia's metals & mining to marketweight on slowing global growth momentum