Air Comes Out of Dow Again, Raising Alarms for Chart Watchers
(Bloomberg) -- The Dow Jones Industrial Average keeps bearing the brunt of the stock market's trade paranoia, falling for an eighth straight day and within 1 percent of a key level monitored by chart analysts.
Led lower by Caterpillar Inc., a proxy for the state of international commerce, the Dow fell 0.8 percent Thursday, bringing its loss since June 11 to 3.4 percent. The gauge now sits about 200 points above its 200-day moving average, a level that marked turning points in March, April and May.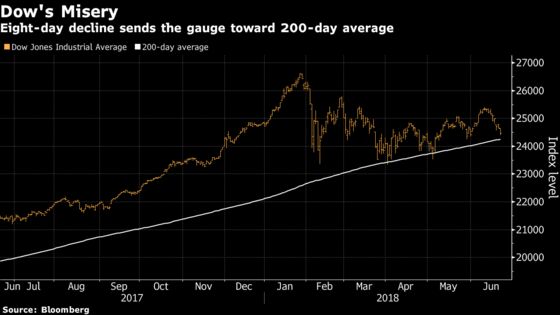 Thursday was the stock market's worst day in three weeks, as losses in the industrial measure were mirrored in the Nasdaq Composite Index and to a lesser extent the S&P 500. Declines in the Dow have been cited by some as evidence that concern about trade are exacting a bigger toll than broader equity measures indicate.
Going by the S&P 500 in June, one might conclude that investors either haven't been concerned about the political drama or they've already made up their minds that President Donald Trump will prevail. The benchmark for U.S. equities had been hovering near a three-month high even as the Shanghai Exchange Composite Index sank to the lowest since 2016.
While Commerce Secretary Wilbur Ross disputed on Thursday broader economic concerns that U.S. companies are becoming anxious about trade developments, investors have started showing signs of anxiety. Underneath the U.S. market's placid surface, a gap is opening as traders rush to steer away from companies with exposure to China.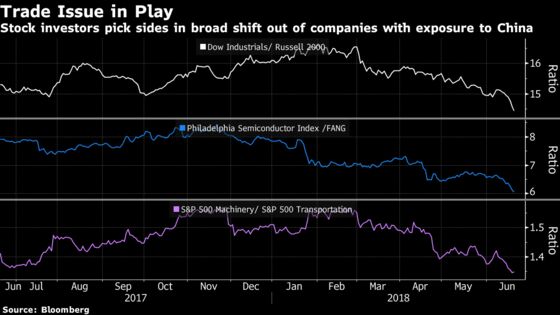 As investors shun multinational firms, the Dow is now tied for the longest losing streak since 1978 and down 1 percent for the year. Meanwhile, the Russell 2000 Index of small-cap stocks, made up of companies that get their revenue mainly from within the U.S., has rallied 10 percent. At this rate, the indexes are on track for the biggest performance divergence during any calendar year in the past two decades.
Even within the same industry, winners and losers are standing out. Among the most compelling is the performance of chipmakers versus the FANG block of tech giants such as Amazon.com Inc. Qualcomm Inc., which counts China's Semiconductor Manufacturing International Corp. among its suppliers, has failed to keep up with the broad tech rally.
China's restrictions on online businesses from overseas have prevented companies like Amazon and Facebook Inc. from gaining much presence in that country. Their stocks kept going up, reaching an all-time high relative to chipmakers.
The same pattern is on display among industrial stocks. Machinery makers such as Caterpillar are losing ground to domestic-oriented transport shares.