Walgreens Is What You Get When You Can't Put Amazon in the Dow
(Bloomberg) -- On paper, Walgreens Boots Alliance Inc. is an underwhelming choice for inclusion in the world's most famous stock index.
The shares are languishing, its industry keeps coming under threat, and it's half the size of the company it's replacing, General Electric Co.
But for a clue as to why owners of the Dow Jones Industrial Average picked it, look at the companies they didn't.
In particular Amazon.com Inc., the world's biggest retailer, whose $1,760 stock effectively bars it from a price-weighted gauge. Tuesday's reshuffling shows the trouble Jeff Bezos' behemoth creates for the Dow. It can't go in itself, and its success disrupting retail has left no obvious alternative beyond a drugstore chain whose shares are on a three-year skid.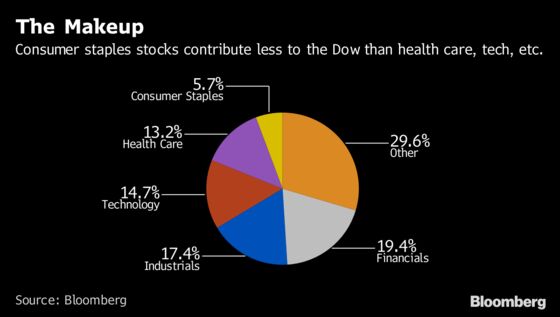 "Retail hasn't been working," Kim Forrest, senior portfolio manager at Fort Pitt Capital Group LLC in Pittsburgh, said by phone. "That whole retail aspect, who are they going to slide in there? Macy's, JC Penney? All these stalwarts of American retail have just gotten killed."
Given that, Walgreens is the closest thing the Dow had to a safe bet, Forrest said. Though it has tried, "It's very hard to 'Amazon' pharmaceuticals."
Luke Shane, a spokesman for S&P Dow Jones Indices, declined to comment on other candidates, saying the Dow methodology states all index committee conversations are confidential. A Walgreens representative said the company did not have any comment on the reason for its selection.
Another candidate that didn't make the cut is Facebook Inc., currently the world's fifth biggest company. At $203, its stock isn't exactly bargain basement, but would fit within the Dow's existing range. One mark against it is the industry: technology companies would make up nearly one-quarter of the index.
Another might be zeitgeist, with Chief Executive Officer Mark Zuckerberg being dragged in front of lawmakers to explain the company's privacy policy.
"The regulatory issues in both the U.S. and Europe are a huge question mark," Forrest said. "If you want to have a more or less lower turnover index, you're not going to put somebody in who has that regulatory target on their back."
As a business, Walgreens is difficult to categorize. For those who consider it a health-care company for its role filling prescriptions, its inclusion makes a modicum of sense in the Dow by boosting that industry's representation. It's also, inescapably, a retailer, and like every other store operator not already in the Dow, a pale facsimile of Amazon.
"It's hard to ignore the fact that they definitely have that retail component at the front of the store," Brian Tanquilut, an analyst for Jefferies, said by phone. "It's not going to go away, although it is a shrinking part of the strategy."
To be sure, the Dow's index committee, headed by David Blitzer, can make a case for promoting Walgreens. It has a diverse revenue stream. It's far from a sales pipsqueak, with annual revenue north of $120 billion. And the biggest drugstore chain by U.S. retail pharmacy sales has expanded profits in all but one year over the past decade.
Investors have been less enamored. Dogged by the same competitive fears plaguing all of retail, the stock declined in 2016, 2017 and again this year, with about $38 billion pruned from its market value since its 2015 high.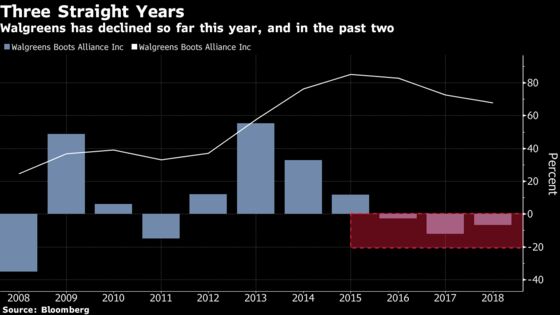 The Dow is different from other indexes. A committee chooses members, not an objective, rules-based process. Companies are weighted by price, rather than market value. According to its website, the Dow seeks to maintain "adequate" sector representation and favors a company that "has an excellent reputation, demonstrates sustained growth and is of interest to a large number of investors."
Amazon also fits the bill. It's the world's third-biggest company, has annual revenue approaching $200 billion, and the company has become one of the most ubiquitous presences in American commerce. Its Prime business surpassed 100 million paid users in April, and more new members joined the service in 2017 than any other year.
Beyond the share price issue, other impediments may exist to Amazon's inclusion. Kevin Miller, chief executive officer of Minnesota-based E-Valuator Funds, says an online retailer might not be the kind of company the Dow braintrust is interested in.
"It's more of a pass-through stock, they're passing through merchandise as opposed to actually manufacturing," Miller said in an interview at Bloomberg's New York headquarters. "They would be a great gauge for retail consumption and consumer confidence, but they're really not creating an employee base like a Walmart."
Amazon is increasingly getting into the manufacturing game. It has long made devices like Kindle tablets for reading e-books and its popular Echo speakers that run on the voice-activated Alexa platform. Amazon also has a fast expanding line of private label products, such as baby wipes, clothing, batteries and snacks.
The Dow's overseers may also not want market darlings, says Howard Ward, chief investment officer of growth equities at Gabelli Funds. Apple joined the benchmark in March 2015 only to see its stock sink 15 percent over the next 12 months.
"I can appreciate that they may have shied away from adding a stock that has been very strong in recent years as they have done that in the past only to appear to pick the intermediate term top in those shares," Ward said.
Some of those criticisms might apply to Walgreens, too. At the same time, compared with GE, the company is a model of steadiness. Its profits have proven durable, holding up well in 2015 when other companies in the S&P 500 were enduring earnings contractions.
"It's going to be more stable portfolios of businesses," said Dan Veru, chief investment officer of Palisade Capital Management at Fort Lee, New Jersey. "It's a decent choice."