TPG Scolded for `Stunning' Lack of Diversity by Pension Official
(Bloomberg) -- Jim Coulter, the billionaire co-founder of the giant private equity firm TPG, was in a Portland suburb with one of his largest clients when he got some tough questions.
The hot-button issue: a lack of diversity at the buyout firm.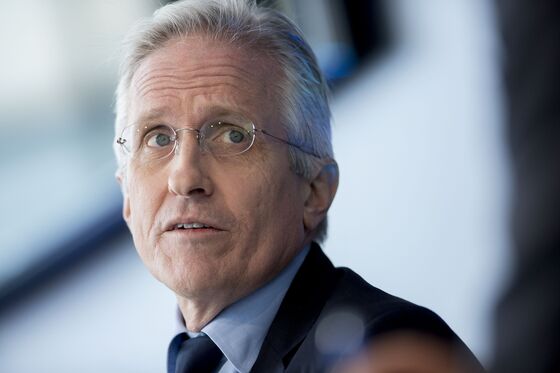 The unexpected scene unfolded on June 6 at the Oregon Investment Council meeting -- and was recorded and posted on its website. The exchange offers a rare glimpse at how big investment firms are facing pressure from some institutional investors to change their white-male dominated culture.
About 30 minutes into the almost three-hour meeting, John Russell, the vice chairman of the council, asked the group to look at what amounted to Exhibit A: photos of the firm's leaders in its flagship buyout unit, TPG Capital.
"When I first looked at that, it was stunning to me," Russell said. A March TPG marketing document shows only 2 women among the 37 executives of TPG Capital. One of them is a partner.
"It isn't that people of different ages, genders and ethnicity are better managers," Russell said to Coulter. "It is just that they have a view of the world that is broader. And companies can get into trouble without that diversity."
Coulter responded that his firm needs to do better, particularly with women. "Our racial diversity is high relative to the industry," he said at the meeting, referring to firm-wide numbers. "Our gender diversity with about 12 to 15 percent partners women is on average, but not nearly high enough in my view and it is something that we in the industry are working on."
Oregon isn't the only state taking action following an onslaught of sexual harassment claims against executives in media, entertainment and finance.
The Los Angeles County Employees Retirement Association last year began asking private equity firms about their gender mix, sexual harassment claims and preventative measures, according to a person familiar with the matter. The Institutional Limited Partners Association, a trade group, plans to give questions to investors by September to use during due diligence about the gender and ethnic makeup by seniority of firms, policies promoting diversity and if anyone left due to sexual harassment.
"As awful as what these women went through in having to share their experience, it did provide a wake up call to the industry," said Emily Mendell, who heads ILPA's diversity effort. "Limited partners need to be part of the solution to harassment and diversity. Clearly this is a long-term game. Things are not going to change overnight."
The private equity industry is run almost entirely by white men. Four of them -- Coulter, co-CEO Jon Winkelried, Chief Investment Officer Jonathan Coslet and co-founder David Bonderman -- lead TPG, according to the document viewed by Bloomberg. Women run or co-run other businesses, including a publicly-traded REIT, fundraising, compliance and capital markets at the firm, which manages $82 billion and is based in San Francisco and Fort Worth.
TPG, which has a diversity and inclusion committee headed by Winkelried, enhanced its health and family benefits for women and LGBTQ employees, and made recruiting more robust, the firm said in a statement. In the last two years, TPG has promoted five women to partner firm-wide, or 28 percent of the total.
"The need for greater diversity and inclusion must be addressed throughout the financial industry. TPG is no exception," said spokesperson Erika White. "We are proud of the progress we have made so far, but there is much more work to be done."
At the June meeting with Coulter, Oregon's Russell warned of the risks to companies that lack diversity, calling out Bonderman. Last year, amid the sexual-harassment controversy at Uber Technologies Inc., Bonderman made a sexist remark about female directors and then promptly resigned his board seat at the company.
"Your co-chair Bonderman was credited with part of the behavior that basically crippled the brand," said Russell, an office building owner in Portland with an MBA from Harvard. "And I would attribute that in part to lack of diversity."
Coulter told the Oregon official that he was correct to raise the Uber incident.
"David made an undefendable comment," he said. "He immediately apologized and immediately resigned from the board. I am pleased with how he responded in the aftermath even though I am embarrassed by the comment."
Even as some institutional investors turn their focus to diversity, there's no indication they will use money as leverage and withhold their backing of private equity funds. That could be costly. Buyout firms have been producing robust returns, helping them raise a record amount of capital last year.
After Coulter left the Oregon meeting, which covered TPG's investment approach and market outlook, the council voted 4-1 to invest $500 million of the state's pension plan in the firm's buyout fund and health care pool.
The vote extended Oregon's relationship with TPG, which goes back more than 20 years. In a statement to Bloomberg, John D. Skjervem, the chief investment officer of Oregon's Treasury, applauded "TPG's commitment to diversity and inclusion improvements."
The no vote was cast by Russell. He said in an interview that while diversity was a concern, his dissenting vote was driven more by TPG's wide-ranging investments.
Even though OIC sets the investment strategy for $102 billion in assets, including retirement savings, managed by the state treasury, Russell doesn't think it has much influence when acting alone.
"The truth is, as big as Oregon is, we are just an asterisk in the whole scheme," he said. "Until pension funds get together en masse, we won't have much of an effect."