Stocks May Slide 5% by End of Summer, Stifel's Bannister Says
(Bloomberg) -- With all the headlines about peaking growth and a potential trade war, U.S. stocks haven't given in. But don't let your guard down, says Barry Bannister, chief equity strategist at Stifel Nicolaus.
The S&P 500 will slide to 2,635 in the third quarter as analysts slash earnings estimates on trade tension escalation, a stronger dollar and speculation of faster monetary tightening, Bannister wrote in a note to clients released late Tuesday. That's the level that last served as support in early May and represents roughly a 5 percent decline from the last close.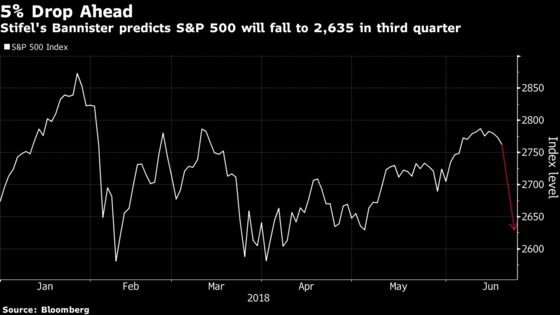 While the strategist expects the index to rebound in the final months to finish the year at 2,800, he reiterates his view that the nine-year bull market is at "a very late stage." With valuations looking "bubbly" and bond yields going higher, the impetus to buy stocks will dissipate, and a bear market is likely less than two years away, he said.
"A decade of buy-the-dip is running out of gas," Bannister said. "Psychological conditioning of investors implies a rapid S&P 500 decline when it arrives."
Bannister is the latest Wall Street strategist sounding alarms on the market. Earlier this week, Morgan Stanley urged investors to go defensive while Citigroup flagged a potential bubble in growth stocks.
Despite these caveats, stocks have barely budged since the February rout. Poised for its third monthly gain, the S&P 50O is up more than 3 percent this year.