Philippine's Hike Not Enough for Asia's Worst Market: Analysts
(Bloomberg) -- While the Philippine central bank increased its benchmark interest rate for a second month, the action isn't enough to help lift Asia's worst-performing market, according to some analysts.
The Philippine peso has weakened more than 6 percent against the dollar this year to a 12-year low, while the equity benchmark has slid 15 percent. Both markets, which rank at the bottom in Asia, were closed before the rate decision was announced on Wednesday, though one-month dollar-peso non-deliverable forwards gained 0.3 percent to 53.65 as of 10:27 a.m. in London.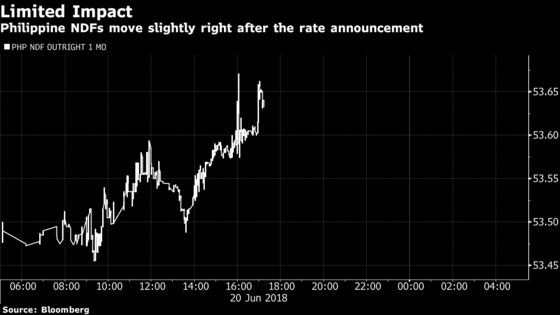 Here's a detailed look at what strategists have to say:
Krung Thai Bank (Jitipol Puksamatanan)
The rate hike by the Philippine central bank will probably only help to stop declines in the peso in the short term, and the action isn't enough because the key rate remains below the nation's inflation
The move is unlikely to help strengthen the currency
A significant depreciation in the peso would be negative for their inflation, while the peso may weaken further to as low as 54.50 in the third quarter
Bangko Sentral ng Pilipinas could deliver another interest-rate increase this year, after the hike on Wednesday, as inflation will probably quicken if the peso remains weak
Further hikes will do little to bolster the peso as the Federal Reserve is expected to embark on a more aggressive tightening path
The peso is more vulnerable than regional peers to higher U.S. interest rates as the Philippines has a more acute inflation problem
AB Capital (Lexter Azurin)
The rate hike should ease investor concerns on the peso, which in turn will be good for equities
One of the reasons for the market selloff in the past few months is uncertainty over the policy environment. He pushed with cutting reserve requirements at a time that inflation is rising
Philippine stocks are becoming attractive at current level given cheap valuations
AP Securities (Rachelle Cruz)
For the equities market, a rate hike is better than no rate hike. This is meant to calm the market and anchor inflation expectations
There's more room for peso weakness if inflation peaks in the third quarter of this year and BSP doesn't increase rates during its August meeting
This will put pressure on the peso and the stock market will remain weak because foreign selloff will continue
Standard Chartered (Divya Devesh)
The Philippine central bank's rate increase "certainly provides some respite" for the peso, but the currency is likely to continue to underperform
A key reason for the peso's underperformance has been weak external balances, and that is unlikely to change in the short term
TD Securities (Mitul Kotecha)
The rate hike on Wednesday isn't going to help the beleaguered peso much given still relatively low real yields and current-account deficit
Over the near term, the peso may benefit from some consolidation in risk appetite but the dollar-peso pair is likely to remain in upward trend
Breach of the next psychologically important level at 54 will be in focus