Noble's Marathon Revamp Nears Finish After Goldilocks Deal
(Bloomberg) -- Embattled commodity trader Noble Group Ltd. has won over a major opponent of its make-or-break restructuring plan, ending months of accusations and lawsuits. Shares rallied more than 60 percent.
Dissident shareholder Goldilocks Investment Co. has given its irrevocable support to the $3.5 billion debt-for-equity proposal after Noble agreed to grant existing shareholders 20 percent of the revamped company, up from 15 percent previously, the trader said in a statement Wednesday. The two agreed to stop fighting each other in court.
The deal with Goldilocks, which will also be able to nominate a director to Noble's board, marks a breakthrough after months of bitter public sparring, and paves the way for the restructuring that'll hand control to senior creditors. Noble and Goldilocks will form a partnership to explore opportunities in the Middle East as part of their agreement, which drew criticism from long-term foe Iceberg Research.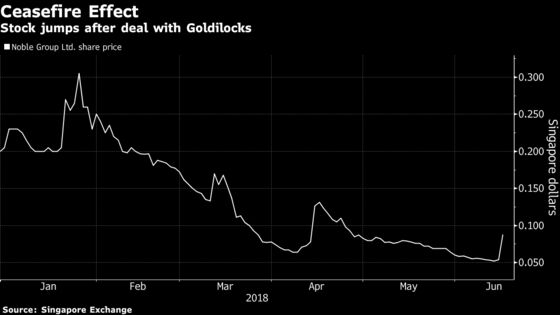 "This absolutely clears the biggest hurdle to the debt restructuring," said Stan Manoukian, founder of California-based Independent Credit Research LLC. "The threat of liquidation is no longer on the agenda."
The company is also hoping to strike a deal with perpetual bondholders, with whom it reached an in-principle agreement last month. That would allow it to publish its circular to shareholders within the next week or two, according to two people familiar with the process -- a key step toward completing the restructuring. According to an indicative timeline published by the company in March, Noble would be able complete the restructuring about three months after filing the circular.
Noble Group shares surged as much as 67 percent to 9 Singapore cents, before closing at 8.8 cents. Still, the stock remains 56 percent lower this year. On credit markets, defaulted notes due 2020 climbed 1.6 cents on the dollar to 42.7 cents, according to prices compiled by Bloomberg.
Goldilocks had urged an investor revolt against Noble Group's original deal, arguing it was unfair to existing holders. In April, it filed a lawsuit in Singapore seeking to halt the restructuring. It also successfully sought an injunction to block Noble Group from holding its annual general meeting, with the gathering opened and then adjourned. It holds 8.1 percent of the trader.
Noble Group has been in crisis for years after billions in losses, defaulting on its debt, and amid allegations of improper accounting, which it has rejected. After a string of asset sales, the company has been reduced to a rump business focused on Asia, plus a handful of other assets including an alumina refinery.
Iceberg, the group that first published critiques of Noble's accounting in 2015, pushed back on Wednesday, saying that "20 percent of zero is still worth zero," according to a statement on Twitter. It flagged "other obstacles to the restructuring," without giving details.
To bring the complex deal to fruition, Chairman Paul Brough needs approvals from shareholders as well as senior creditors, of which about 85 percent back the plan.
The restructuring agreement has been altered before. Earlier this year, Noble Group sweetened the deal for shareholders by revising the original plan, offering them the 15 percent holding, up from 10 percent.
The remaining equity in the new company is being split between senior creditors and management. Under the latest deal, senior creditors stand to receive 70 percent of the trader, while management's share will be 10 percent.
In a separate statement, Noble Group said Pinpoint Asset Management Ltd. and Value Partners Ltd., holders of its perpetual securities, withdrew a lawsuit filed against the company on June 13. Perpetuals have been offered $25 million of new bonds in exchange for securities with a face value of $400 million. On Wednesday, the perpetuals rose 0.6 cent, the most in a week, to 7.8 cents.
"Obstacles to the completion of the restructuring are probably getting removed," said Neel Gopalakrishnan, senior credit strategist at DBS Group Holdings Ltd. "But the key question is still whether, post restructuring, the company will be able to turn around operations for creditors to recover value."