Trade War Fears Spur Rotation From Industrials Into Small Caps
(Bloomberg) -- Angst over tariff tit-for-tats played out in exchange-traded funds as companies in the crosshairs lost cash and those regarded as havens attracted inflows.
The Industrial Select Sector SPDR exchange-traded fund, ticker XLI, shed more than $406 million Tuesday, the most since April, after the Chinese government warned it would "retaliate forcefully" should the U.S. impose more duties against the country's products. XLI's heavily-weighted stocks include firms with large global holdings vulnerable to trade frictions, including General Electric Co., Boeing Co. and Caterpillar Inc.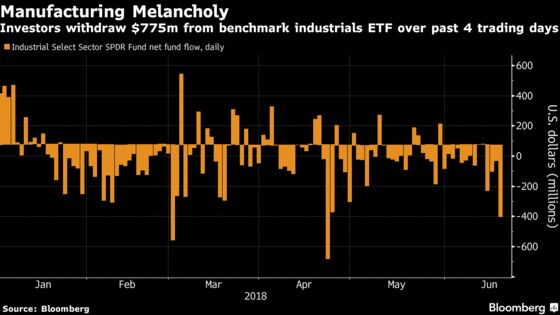 The dollar's recent advance, which erodes the value of profits generated overseas, has also dragged on the $11.8 billion fund, down 2.45 percent so far this year.
The biggest ETF tracking small- and mid-cap stocks, the iShares Russell 2000 fund, meanwhile, clocked its largest cash infusion since March, taking in $641 million. Smaller, more domestically-oriented companies are generally seen as a safe bet since they make most of their money at home. Companies in the ETF have a median market cap of $2.41 billion, compared with $105.2 billion for the SPDR S&P 500 ETF Trust.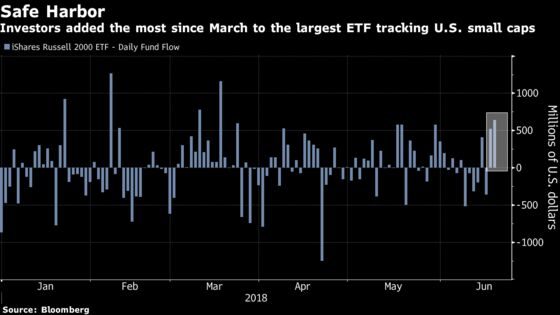 The small-cap safety trade may be on the verge of fraying, however, as friction between the world's two largest economies deepens, potentially hitting U.S. growth in the process. Donald Trump's threat to impose 10 percent tariffs on another $200 billion of Chinese imports sent global risk assets plummeting Tuesday, though markets later found more solid footing.
"I think at some point it does come back to hurt those businesses," Emad Mostaque, co-chief investment officer at Capricorn Fund Managers, said in a Bloomberg Television interview Tuesday. "What you saw at the start of the year was global synchronized growth. It was a cooperative game. Now, we're moving to a more competitive, negative sum game. So, eventually these tensions will come down into this part of the market."