Investors Agree With Trump: The U.S. Will `Win' Any Trade War
That's the early view from financial markets as the tariff dust-up between China and the U.S. shows increasing signs of impacting stock prices. While broad measures of American equities have held up better than their Chinese counterparts, striation within the U.S. market shows investors anticipate steep losses in some stalwart names.
"If we compare the price action between Chinese equities and U.S. equities (particularly the Russell 2000), it's pretty clear that the market is discounting the U.S. as a relative winner in the outcome," writes Jeffrey deGraff, Renaissance Macro Research's co-founder. "That's not to say trade wars are bullish, but the S&P 500 has absorbed the threat and even body blows substantially better than China."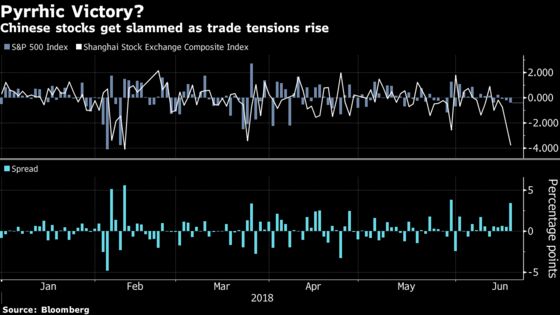 Late Monday, U.S. President Donald Trump ordered the preparation of tariffs on an additional $200 billion in Chinese imports. Beijing vowed to retaliate if the U.S. moves ahead; Trump said that would be met with another round of tariffs on $200 billion in goods.
Analysts estimate the full impact of all measures threatened by Trump could shave up to half a percentage point off China's economic growth. Broadening the list of inbound products from China subject to higher taxes would also ultimately raise prices for U.S. consumer goods.
The rhetoric weighed on Chinese stocks Tuesday, with the Shanghai Composite Index plunging to a two-year low and the yuan coming under pressure. American equities showed more resilience. While S&P 500 Index futures slid 1.5 percent overnight, the cash measure closed lower by just one-third of that.
DeGraff drew attention to the weakness in Chinese technology shares, which hit fresh lows relative to their American counterparts in another signal that investors anticipate any additional border thickening between the world's two largest economies will mean more pain for China.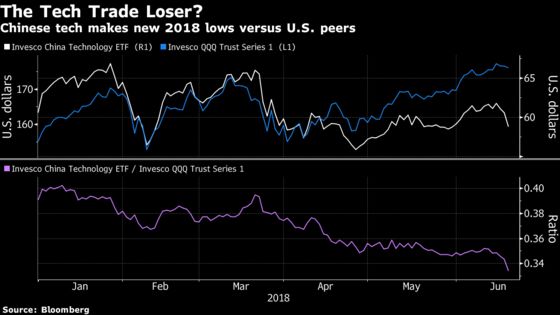 A look at the Dow Jones Industrial Average, however, serves as a reminder that a relative win isn't an absolute one. The index is mired in its longest losing streak in 15 months, with Boeing and Caterpillar -- two multinationals that get at least 10 percent of sales from China -- accounting for the bulk of the losses.
Escalating political rhetoric on trade "will continue to be market negative at least for the next few days as the two countries continue to bare teeth both for the benefit of domestic audiences and to convince each other of their seriousness and resolve," writes Terry Haines, analyst at Evercore ISI.
Within the U.S. equity market, investors have targeted smaller companies with a domestic focus. The Russell 2000 Index even eked out a gain Tuesday, while the ratio between Goldman Sachs baskets of stocks with high international exposure versus high domestic exposure is near levels not seen since the surprise election of Trump spurred a short but strong bout of outperformance for small caps as part of an "America First" move in markets.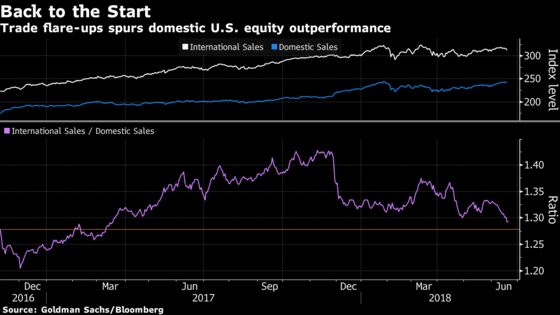 "The bottom line is that trade wars are akin to zero-sum games or mutually assured destruction," cautions Sean Darby, chief global equity strategist at Jefferies. "In the long run, no-one really wins."