Facebook Surges Past $200 as Privacy Woes Fade, Instagram Grows
(Bloomberg) -- Facebook Inc. is back in bull mode.
The social-media giant's share price topped $200 for the first time Wednesday, as investors bet the company's Instagram and Messenger units will continue to boost advertising revenue, overshadowing any lingering data-privacy concern that pummeled the stock in March.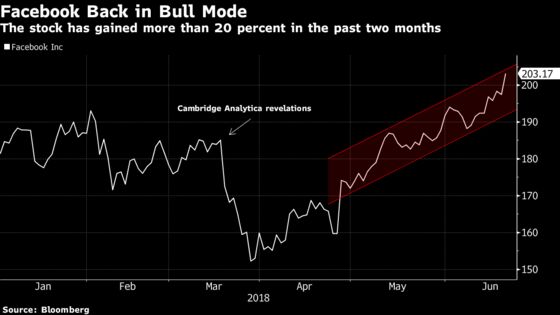 Messenger has been deploying more ads in recent weeks and should be "highly material" to profits, RBC analyst Mark Mahaney said in a note. And Instagram has reached 1 billion monthly active users, the company announced today.
The stock rose 2.9 percent to a record $203.28 as of 1:57 p.m. in New York. Facebook came within 42 cents of $200 two days ago before finally punching through Wednesday. Since bottoming on March 27 amid the Cambridge Analytica data-sharing scandal, the stock has surged 33 percent, third most in the Nasdaq 100 Index behind Align Technology Inc. and Netflix Inc.
Wednesday's rally took Facebook's market capitalization toward $600 billion, the fifth most on the S&P 500 behind Apple Inc., Amazon.com Inc., Alphabet Inc. and Microsoft Corp.
Facebook wasn't alone among tech shares rallying Wednesday, as the Nasdaq Composite Index jumped as much as 1 percent to a fresh record. Twitter Inc. rallied 3.3. percent, Netflix jumped 2.9 percent and PayPal Holdings Inc. added 2 percent. The S&P 500 Index, in contrast, rose just 0.4 percent.
The gains have pushed Facebook founder Mark Zuckerberg's personal fortune within spitting distance of billionaire Warren Buffett's. The 34-year-old has an estimated worth of $81.3 billion, some $700 million below that of the Berkshire Hathaway Inc. chairman.