Emerging Asia to Suffer Most From Strong Dollar, Macquarie Says
(Bloomberg) -- Asia's emerging-market currencies may be the biggest casualties of dollar strength this year, Macquarie Bank Ltd. says.
The risk-off mood prevailing in global markets caused by the U.S.-China trade dispute is likely to persist and amplify the dollar's traditional haven role, said Gareth Berry, senior vice president FX and rates strategy at Macquarie.
"For the last three months or so most of the dollar strength was concentrated against the euro because people were selling euro-dollar and that filtered through the whole system," he said in Sydney. "The next phase of dollar strength probably won't be against the euro. We see scope for the dollar to strengthen more against EM Asia in particular, and perhaps the whole EM world rather than other developed markets."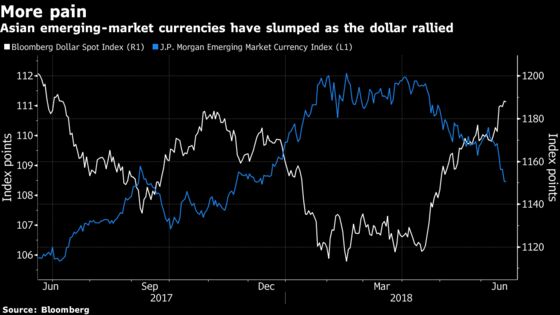 The Bloomberg JPMorgan Asia Dollar Index, which tracks the greenback against eight developing Asian currencies and those of Singapore and Hong Kong, has dropped more than 3 percent from this year's high set in January. The gauge fell on Tuesday to the lowest since November.
The beleaguered Australian dollar is also poised to suffer as the greenback strengthens, Berry said. The Aussie will probably test 71.80 U.S. cents in the next two-to-three months as it becomes an indirect victim of capital flight from emerging-market Asian currencies, which make up more than half of a basket representing Australia's trading partners, he said.