China Moves to Slow Currency Drop After Fastest Loss Since 2015
(Bloomberg) -- Chinese officials set the daily fixing of the yuan at a much stronger level than expected, suggesting efforts to stem declines amid escalating trade tensions with the U.S.
The People's Bank of China's reference rate was 6.4586 per dollar on Wednesday, stronger than the most optimistic estimate in a Bloomberg survey of 23 analysts and traders. The onshore currency gained 0.14 percent as of 5:02 p.m., after a two-day slump that was the steepest since the 2015 devaluation.
Investors are keeping a close eye on the daily fixing for clues on whether officials will use China's currency as a weapon to combat U.S. President Donald Trump's tariff threats. The outcome Wednesday suggests that, at least for now, repairing market sentiment is a higher priority.
"The PBOC is trying to tell the market that the yuan will not weaken further and it is not going to devalue the currency to fight the trade war," said Banny Lam, head of research at CEB International Investment Corp.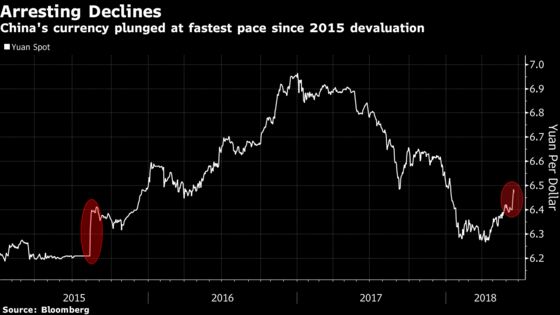 The central bank moved quickly Tuesday to reassure shell-shocked stock investors. Policy makers are prepared for outside shocks and the central bank is ready to use monetary policy "comprehensively", Governor Yi Gang said in an interview with the Shanghai Securities News published on the PBOC's website late Tuesday. The Shanghai Composite Index closed 0.3 percent higher on Wednesday, after plunging 3.8 percent in the previous day.
"The PBOC is probably attempting to use the stronger-than-expected fixing to avoid a simultaneous sell-off of the yuan and China equities," said Ken Cheung, a senior currency strategist at Mizuho Bank in Hong Kong. "Along with the PBOC Governor Yi's comment, stabilizing sentiment is the primary task for the central bank at the moment."