China at Risk of Losing Title of World's Number Two Stock Market
(Bloomberg) -- China's equity market is only one bad day from losing a title it's held for almost four years.
Following Tuesday's $406 billion wipeout, Chinese stocks have lost more than $1.6 trillion in market cap since a peak in January. It would only take another drop of a similar magnitude to make Chinese stocks less valuable than those in Japan, which typically benefits from having a currency that's often seen as a haven asset in times of market stress.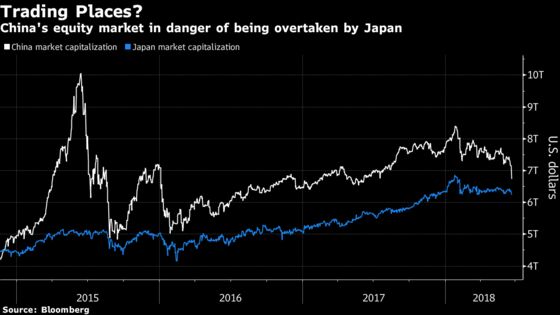 China has been home to the world's second-largest equity market since it overtook its Asian neighbor at the end of 2014, according to data compiled by Bloomberg. The country's stocks rose on Wednesday, following efforts by the government to soothe nerves rattled by the threat of additional U.S. tariffs.
The biggest equity market is in the U.S.: worth some $31 trillion, it's more than twice as valuable as all the stocks in China and Japan combined.