Cboe Finds More Ways to Fix the VIX, Builds on Prior Tweaks
(Bloomberg) -- Cboe Global Markets Inc. outlined more ways to improve its embattled monthly auction for VIX derivatives, and is pushing regulators to allow even more changes.
A record one-day spike in the Cboe Volatility Index -- also known as the VIX or Wall Street's fear gauge -- ended an unprecedented stretch of market calm this February, bringing more focus to this measure of implied swings in the S&P 500 Index. And much of that attention went to a monthly auction that's seen a series of unusual price swings.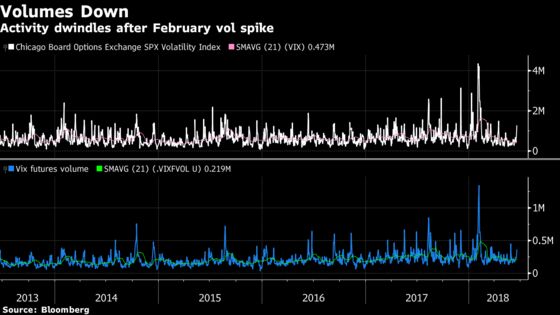 Cboe's changes, some of which had been previously hinted at or enacted, pertain to the process of setting the final value of VIX futures contracts, which only trade on Cboe's exchange. This monthly auction, which involves trading of S&P 500 options also listed by Cboe, gives market participants the purest way to maintain existing hedges to protect against tremors in the U.S. benchmark equity gauge. Large, seemingly irregular swings in the gauge around the time of auctions spurred accusations of nefarious activity -- an idea Cboe has rejected -- and attracted the attention of regulators.
Cboe says design flaws in that auction had been keeping out traders who might otherwise have stepped in to smooth out prices. The company now offers more and faster data to market participants about the evolution of the monthly auction; its recent migration to a hybridization trading platform is also designed to help elicit more bids and offers from market makers.
In addition, the exchange operator is petitioning the Securities and Exchange Commission to change a certain rule to allow market makers -- and their compliance departments -- to better justify participating in the auction. Some market makers had been deterred out of concern that changing orders after a certain cut-off point to respond to big imbalances between requests to buy and sell would be met with a fine or regulatory scrutiny. Luring more market makers back to the auction is one key to Cboe's strategy of preventing the type of imbalance that caused a big jump in the VIX in April.
"The Exchange understands that some Market-Makers may hesitate to provide liquidity that could resolve order imbalances," Cboe said in a filing. "As a result, this perceived risk may lead to reduced liquidity and may exacerbate the time it takes to open a series at a competitive price."
Altering this rule would bring long-overdue clarity to market makers looking to pitch into the auction, according to someone familiar with the exchange's rationale.
Cboe announced the changes just before the latest monthly auction on Wednesday, which went relatively smoothly. So did the May auction, which followed an initial set of adjustments to the auction process that Cboe says lured in more market markers. BNP derviatives strategist Anand Omprakash said the May event undermined allegations that something nefarious is going on in the monthly settlement -- a concern that had deepened after the eye-catching April auction.
From 'Gunned' to 'Smooth'
Pravit Chintawongvanich, former head of derivatives strategy at Macro Risk Advisors, argued in April that the settlement was "gunned" -- artificially pushed higher -- pointing to a high amount of demand for "extremely far downside options" late in the event that left a massive imbalance. While the VIX Index did experience some jitters amid the May and June auctions, both have proceeded far more orderly than in April.
"Today's SPX auction, which determines VIX settlement values, went very well," Cboe President and Chief Operating Officer Chris Concannon said in an emailed statement Wednesday. "Similar to the auction in May, liquidity formation was robust and supported a smooth settlement process."
While Cboe continues to make progress in fixing the settlement process, the firm also faces the challenge of waning activity in its proprietary VIX products. The stock is down 16 percent year to date, compared to gains of 6 percent and 15 percent for competitors Intercontinental Exchange Inc. and CME Group Inc.